Trump hints at changed position on gun control after meeting with NRA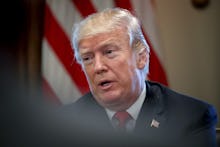 National Rifle Association Executive Director Chris Cox met with President Donald Trump and Vice President Mike Pence Thursday night in the Oval Office, and he said Trump no longer wants gun control.
"I had a great meeting tonight with @realDonaldTrump & @VP," Cox tweeted. "We all want safe schools, mental health reform and to keep guns away from dangerous people. POTUS & VPOTUS support the Second Amendment, support strong due process and don't want gun control. #NRA #MAGA"
Trump gave credence to Cox's claim.
"Good (Great) meeting in the Oval Office tonight with the NRA!" Trump tweeted an hour after Cox.
Trump appearing to capitulate to the NRA's anti-gun control lobbying is a far cry from his comments on Wednesday during a meeting with a bipartisan group of lawmakers.
At that meeting, Trump vowed that he will oversee meaningful gun reforms, and that the NRA would not sway his position.
"The reason I had lunch with the NRA on Sunday — I called them; I said, you got to come over. I said, fellas, we got to do something. And they do have great power, I agree with that. They have great power over you people. They have less power over me," Trump said at the Wednesday meeting, referring to a separate meeting with the NRA. "I don't need it. What do I need?"
Trump even dinged Sen. Pat Toomey (R-Pa.) for being too "afraid" of the NRA.
If Trump decides to abandon his push for gun control due to NRA influence, he will prove Democrats' argument that the NRA has immense sway over Republicans.
And that could be a political problem for Republicans, as public polling shows Americans want gun reform.