Guillermo del Toro wins best director at the Academy Awards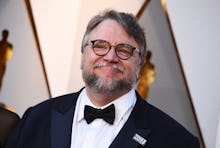 Guillermo del Toro has won the Oscar for best director for his fantastical love story The Shape of Water. Del Toro beat out four other directors for the win — Greta Gerwig, nominated for her semi-autobiographical solo debut Lady Bird; Jordan Peele, nominated for his thriller Get Out; Paul Thomas Anderson, nominated for his drama Phantom Thread; and Christopher Nolan, nominated for his experiential World War II epic Dunkirk.
Taking the stage to accept his award, an emotional del Toro described himself as an immigrant and encouraged creators to make work that erases the lines between people rather than deepening them.
The Shape of Water, a surreal love story that takes place in Cold War-era Baltimore, follows Elisa (Sally Hawkins), a mute janitor at a top-secret government laboratory who befriends and then later falls in love with a sea monster being held captive in the lab. The film is, at its core, a story of outsiders — Elisa's only friends are her lonely gay neighbor, Giles (Richard Jenkins) and her fellow janitor and interpreter Zelda (Octavia Spencer).
Together, they all recognize the sea monster as one of their own and help break him out of captivity, despite the best efforts of the villainous and violent Colonel Strickland (Michael Shannon).
"The movie is about connecting with 'the other,'" del Toro told NPR in December, speaking about The Shape of Water. "You know, the idea of empathy, the idea of how we do need each other to survive. And that's why the original title of the screenplay when I wrote it was A Fairy Tale for Troubled Times, because I think that this is a movie that is incredibly pertinent and almost like an antidote to a lot of the cynicism and disconnect that we experience day to day."
This year was the first that del Toro received a nomination in the best director category, but it wasn't his first time in the running for an Oscar. In 2007, he was nominated for best original screenplay and best foreign language film for his dark fantasy Pan's Labyrinth, but lost out to, respectively, Michael Arndt for Little Miss Sunshine and the German film The Lives of Others.
Del Toro is part of a crew of Mexican filmmakers whose projects have dominated awards season in recent years — del Toro, along with Alfonso Cuarón, who won the best director Oscar in 2014 for Gravity, and Alejandro González Iñárritu, who won back-to-back best director Oscars in 2015 and 2016 for Birdman and The Revenant, are a tight-knit trio of friends, as Cuarón told the Associated Press in 2006. And now they each have a best director Oscar (or two) of their own.