While You Weren't Looking: 5 stories from the Trump cabinet that aren't about White House chaos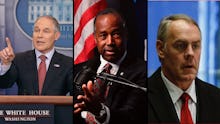 In a week of news dominated yet again by drama in the White House, high-profile resignations and Trump's erratic off-the-cuff policy decisions, there was little time to follow any other news.
But major news stories continued to break across the many White House agencies overseeing day-to-day policy in the United States and abroad.
Here's what you might have missed.
Carson's HUD buys and returns a $31,000 table set for his office
This week Housing and Urban Development Secretary Ben Carson, a man who once cautioned against making public housing too "comfortable," was discovered to have spent $31,000 on a mahogany dining set for his HUD office in Washington, D.C. The set was reportedly ordered by Carson's wife, who is not a HUD employee, but was in charge of redecorating his office.
After first defending the cost of the purchase, Carson eventually agreed to cancel the order claiming he was "as surprised as anyone" to learn that the set had been ordered. However, one senior HUD official has already filed a lawsuit against the agency claiming she was "demoted" after refusing to sign off on the expensive redecoration.
Carson also attempted to explain why there was a need to replace the furniture in the first place.
"The furniture is 30 to 50 years old and is very worn. It has also been characterized as unsafe," said the man who oversees public housing projects like the one where 28-year-old Akai Gurley was shot by police officers while walking down a derelict hallway with broken lighting.
The Guardian also reported that Carson's office spent another $165,000 on "lounge furniture" for HUD's Washington offices. The Trump administration is currently proposing a $6.8 billion cut to HUD's annual budget.
Zinke may have pulled wildfire supervisor away from wildfires for private helicopter ride
In December, Interior Secretary Ryan Zinke was found to have reportedly tapped wildfire preparedness funds to pay for private helicopter rides around the country over the summer. A spokesperson for the Interior Department told Newsweek at the time that the helicopter rides had been erroneously charged to the wrong account and that the mistake would be rectified.
But a new CNN report shows that Zinke's entourage on the private helicopter tours included a wildfire management supervisor, who was flying with Zinke on a day that 22 wildfires were ravaging the American West.
A review of helitack crew supervisor Lucas Rhea's Facebook page shows that he had been actively working on the department's efforts to fight wildfires through September. But flight manifests show that Rhea had been with Zinke for five helicopter stops in July.
The Interior Department declined to tell CNN if Rhea had been pulled away from his fire-fighting duties to accompany Zinke.
Pruitt closes EPA office tasked with studying the effects of chemicals on children's health
Environmental Protection Agency Administrator Scott Pruitt is closing an office within his agency tasked with studying the effects of dangerous chemicals on children's health.
The National Center for Environmental Research, an agency that handles fellowships for the study of hazardous chemicals and their effects on human health, will be shutdown and its work consolidated into another EPA office, according to a report in the Hill.
The EPA claims that the changes will help increase efficiency in the agency's operations.
But former EPA scientist Tracey Woodruff told the Hill that the decision is "extremely concerning," noting that the NCER is responsible for funding crucial research like the kind that found that prenatal exposure to flame retardants could cause brain damage in infants.
Trump wants to put his personal pilot in charge of the FAA
President Donald Trump wants to put his personal pilot in charge of all air travel in the United States, according to a report at Axios.
Trump's longtime personal pilot John Dunkin is reportedly on the short list of people the president is considering tapping to head the Federal Aviation Administration.
A source close to the White House told Axios somewhat paradoxically, "He's on the list because he's the president's pilot, but if he gets the job it won't be because he's the president's pilot."
Apart from having no experience in government, Dunkin is also an odd choice given his track record running privately chartered flights for the president during the campaign. As MSNBC pointed out, a chartered flight carrying then-vice-presidential candidate Mike Pence that was overseen by Dunkin, skidded off the tracks during a landing due to what was later determined to be "pilot error."
During another campaign trail incident, Dunkin oversaw the hiring of a pilot who was facing violent felony charges for allegedly running over a co-worker three times with his car.
U.S. ambassador to Mexico steps down
In a week dominated by the high-profile departure of White House communications director Hope Hicks and the rumored imminent departure of Trump national security adviser H.R. McMaster, few noticed the resignation of America's top diplomat overseeing one of the country's most fraught relationships.
The U.S. ambassador to Mexico, Roberta Jacobson, resigned from her post Thursday, saying that she will be pursuing "other opportunities."
Trump has been openly hostile toward the nation of Mexico since his 2016 campaign, most notably with his insistence that he will somehow force the sovereign nation to pay for his southern border wall.
Jacobson is just the latest ambassador to resign from her post in a country where Trump has made diplomacy difficult.
In January Trump's pick to be ambassador to South Korea was abruptly withdrawn over arguments about Trump's antagonistic North Korea strategy. And on Tuesday the State Department's point man on the situation in the Korean Peninsula also resigned his post.