Don't let all those Oscar nominations fool you — 'Shape of Water' isn't the best picture frontrunner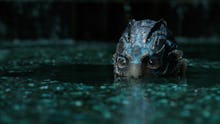 After about two decades of online awards punditry, the idea of an "Oscar bait" film has calcified into something clear and easily mocked. This year, something like Darkest Hour fits the bill most squarely: a lavishly mounted period piece doubling as a historical biopic, that most cliché-friendly of genres, in which a well-known actor gets the chance to unveil an impression of a distinctive figure's tics and mannerisms. (Films set during the Holocaust also have a particularly strong track record.) More of a showcase for elaborate production design and a flashy leading performance than anything else, these films seem reverse-engineered to pander to known Academy voter trends.
Except that Darkest Hour and its recently released ilk such as The Theory of Everything and The Imitation Game never really made it into the game. They usually have their moment in the acting races — as a blustery Winston Churchill, Gary Oldman's got this year's best actor race all but wrapped up — then get iced out in the big dance. This year's scramble for best picture has remained competitive primarily because a frontrunner refuses to emerge, but one thing we can be sure of is that it won't be Darkest Hour.
Maybe it's about time to revise our notion of what does or doesn't qualify as "Oscar bait," seeing as the resolutely weird The Shape of Water swept up a crowd-leading 13 nominations, just one shy of tying the single-film record currently shared by All About Eve, Titanic and La La Land. It's that last one, Damien Chazelle's glitzy musical fantasia, that provides the key to understanding this year's haywire best picture competition.
Chazelle and Guillermo del Toro's films dazzled voters with a similar grandeur that amasses many nominations, but just as the romantic fantasia came up short in the face of a smaller and more grounded film last year, this year also pits massively scaled spectacle against conversation-driven person-to-person drama. And if the last five years or so are any indication, the world will once again belong to the meeker of the two.
Scan the past half-decade, and a clear pattern emerges between the best picture and best director categories. Four of the past five years have seen a split between these two prizes, with a surprisingly consistent logic separating the two. The more technically involved production earns its director an individual citation, while humbler indie operations win the day.
Think back to when Ang Lee's 2012 film Life of Pi — an adaptation of a supposedly unfilmable novel featuring the holy trinity of director's nightmares: water, kids and animals — got him a statuette while best picture went to Ben Affleck's Argo, one part Middle East-set international thriller and one part salute to showbiz and the oddballs who make it go. The year after, Alfonso Cuarón claimed best director for his weightless deep-space long-takes in Gravity, while the searing suffering of 12 Years a Slave claimed its place in best picture history.
Birdman held the game down on both fronts in 2015, but 2016 and 2017 continued this phenomenon. Alejandro G. Iñárritu picked up his second consecutive best director statuette for The Revenant, another platform for single-take photography some find show-offy, while street-level drama Spotlight won the evening. Last year's brouhaha between La La Land and Moonlight has already been canonized as Academy legend.
Apply this dichotomy to the messy calculus of this year's race, and things start to make a little bit more sense. The Shape of Water and the next-most-nominated film, Dunkirk (with eight nods), fall into the Goliath role on merit of their heftier budgets and stylistic pyrotechnics, the former boasting an aesthetically sophisticated softshoe number and the latter a three-front wartime assault. The David would be Golden Globe dominator Three Billboards Outside Ebbing, Missouri or people's favorite Get Out, films driven by dialogue and character setting themselves apart with a component of timeliness.
Here's a mind-bender for you: At what point does the advantage of being the lovable underdog position a competitor so favorably that they're no longer the underdog? Fitting what we may safely call the "Titanic mold" can be helpful when it's time to rake in the nominations, especially considering that the cumulative total number is generously padded by audio-video categories, but it can become a liability by the big night. After months of deliberation and odds-making, both voters and the public usually end up rooting for a scrappy selection with heart, and the best director award becomes a consolation prize acknowledging whoever outwardly seems to have done the most directing. (The Academy's cockeyed understanding of what a director does is a maddening conversation for another time.)
Every year's telecast includes some purple prose about how the Academy remains committed to defending the sanctity of art for its own sake as well as the public's, how grown-up movies can still sneak in among the adolescent blockbuster giants. Little wonder that the voters would pass over, say, the psychotic motor operatics of Mad Max: Fury Road for the more intimate, dialed-back Spotlight.
The cynical among us (myself included, from time to time) will gripe that real folks know how to enjoy a movie that blows your hair back, while the Academy sticks with their lily-livered "feeling, thinking" pictures. Of course, the truth is that all of the best films combine elements of both, and each has their place in the cinema landscape. It's just that on Oscar night, those places can feel awfully far from one another.