If running is your ideal way to travel the world, here's how to plan a race-cation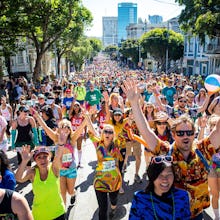 I'm addicted to running — and I've used it as an excuse to travel the world. By combining running and vacations into "race-cations," I've done a half-marathon at Disney World, a marathon in Chicago, beach team relays, a half-marathon in the Bahamas, a 10-miler during cherry blossom season in Washington, D.C., and much more.
The de-stressing powers of taking time off, mixed with endorphins that lead to a runner's high and the sense of accomplishment that comes with running a race, can result in a pretty fantastic vacation. And running comes with its own set of benefits: studies have found that it can prolong your life expectancy and decrease or prevent back pain.
We asked running coaches how to best plan for a race-cation. If you aren't an experienced racer or you haven't been running consistently, make sure to give yourself enough time to train for your desired distance. Plan to train for about six weeks for a first 5K. If you are gearing up for your first half-marathon, you'll want to train for at least three months. A few other considerations: you'll have to carefully choose what you eat and drink the day before the race, spend precious vacation time picking up race materials and build your vacation around helping your tired (and triumphant) body recover from the race.
How to plan the ultimate race-cation
If you can, schedule the race for the beginning of your vacation, Heather Hart, an RRCA-certified run coach, said in an email interview. "This way, you can spend the rest of your vacation relaxing and enjoying things like a few extra drinks or late nights without worrying about the race."
"In an ideal situation you might travel on a Thursday or Friday and then participate in the race on Sunday and then have the week to explore/vacation and return home either the following Friday or that weekend," Dorothy Beal, a RRCA and USATF-certified run coach, said in an email interview. "Then you really have enough time to rest your legs beforehand but you also aren't cutting in to your vacation time."
Your packing list for a race-cation may require a bit more pre-planning. Hart recommended planning for the worst — an airline loses your checked luggage — by putting your running essentials, like your shoes, sunglasses and race outfit, into your carry-on.
Have a specific breakfast that's been working for you pre-run? Either pack your own pre-race snack or check in advance that you can get it at your hotel, since eating unfamiliar foods might lead to an upset stomach during the race.
And about that pre-race outfit: you'll want to think about race climate carefully, Beal said. For example, if you're coming from a cold, wet, winter climate and heading somewhere warm, the hot will feel hotter. Clothes that might normally feel comfortable on training runs might cause you to overheat. Beal's solution is to stash a few race outfits in her travel bag.
"When I travel to races I always bring one pair of shorts, one pair of capri pants, throwaway gloves to keep your hands warm at the start, baseball cap, sunglasses, beanie hat, tank top and long sleeve," Beal said. "Basically with all that gear, I can come up with any sort of combination I would need for whatever the weather throws at me."
After the race is done, let those muscles recover. Travel is actually ideal for races, because exploring a city is built-in active recovery, Beal said. Head for the spa afterward for a post-race massage, which can deliver much-needed circulation and can relieve muscle tightness. Or treat yourself to some time relaxing in the sauna for your aching muscles.
Where to run
Here are some essential competitions for your race-cation bucket list.
If you've always wanted to go to Cuba but are daunted by logistics and paperwork, a race is a great way to visit. "Athletic competitions" are an approved reason for Americans to travel to Cuba. Choose from a 10K, half marathon or marathon option and sign up for a race package and leave the logistics to someone else so you can enjoy exploring old Havana.
For runners who enjoy their jogs with a side of booze, the 12K Bay to Breakers is for you. This "race," where drinks are readily available before, during and after, is one of the San Francisco's biggest parties, with more than 50,000 people (and some superhero and animal costumes) out "running." Afterward, stay in San Francisco, take a trip to nearby wine country or drive down the California coast.
Always chasing the sunshine? Sign up for the Midnight Sun Half Marathon in Anchorage, Alaska. The race has both a half-marathon and a full marathon option and runs on the longest day of the year, where you could get 18 hours of sunlight. After you've gotten your race on, pair it with that Alaskan road trip you've always wanted to take or climb a glacier afterward.
Even the most ambitious visitor probably won't ever make it to all five boroughs of New York City, so why not see them all on foot? Runners who love the Big Apple should throw their hat in the ring for the New York City Marathon. Since there are a limited number of spots in this popular race, marathon hopefuls need to put their name in a lottery. If you fail to get selected when the lottery happens during late February, you can also run by pledging to fundraise for a charity of their choice. Pro tip: After the race, take advantage of the myriad deals that local businesses give you if you show your medal.
Looking for an excuse to escape to somewhere warm during the dead of winter? The Bermuda Race Weekend in January fits the bill. Offering a one-mile race, 10K, half-marathon and full marathon, there's something for everyone on this sunny island. If you're feeling really ambitious, you can do three of the races for their Bermuda Triangle Challenge. Once you've crossed the finish line, don't forget to take that obligatory medal-in-the-ocean photo and recover on the beach.