Meghan McCain slams top Trump backer: Why can't there "be a modicum of respect for my family?"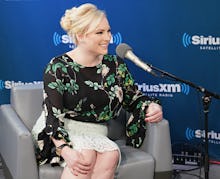 Meghan McCain laced into Conservative Political Action Conference organizer Matt Schlapp on Friday, asking why he didn't stand up for her father, Sen. John McCain (R-Ariz.), when President Donald Trump led a crowd to boo McCain at the conference in February.
Trump had previously promised Meghan McCain that he would stop attacking her father, who is currently undergoing treatment for brain cancer. Yet the president still went after the Arizona senator at the CPAC, calling him a "mess" for his vote against repealing the Affordable Care Act.
Schlapp later defended Trump's mean-spirited attack on John McCain, resulting in Meghan McCain confronting Schlapp on Friday's episode of 'The View,' on which she is a co-host.
"I have to tell you, when President Trump called out my dad and led a crowd of booing, I was so upset, I was so hurt," Meghan McCain told Schlapp. "I know he's not a conservative darling, but why at this moment, when he's suffering from the worst brain cancer that exists and going through chemo, why there can't be a modicum of respect for my family at this moment from CPAC?"
The audience cheered in response.
Schlapp responded, saying Meghan McCain had a "very good point" and calling John McCain "a national hero."
"But as far as your dad is concerned, I do think there is a disagreement on policy questions and let's keep it to policy," Schlapp said.
That answer, however, did not satisfy Republican strategist Anna Navarro, who was also a panelist on Friday's episode of The View.
"I would have applauded you had you said that on stage at CPAC, in front of the people that booed John McCain, as you said a national hero," Navarro said. "That crowd was getting stirred up to boo him by a guy who dodged the draft five times. No seriously, why didn't you get up on stage and do it in front of [those] people, not this audience?"
Schlapp pushed back.
"I think it's OK in America to disagree with someone's votes in the Senate," Schlapp said.