8 books by people of color that are currently being adapted for TV and film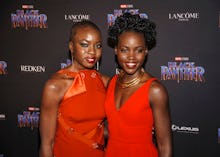 Black Panther's Lupita N'yongo and Danai Gurira are teaming up to adapt the award-winning novel Americanah by Nigerian author Chimamanda Ngozi Adichie for a TV miniseries. Book-to-TV and book-to-film adaptations are one of the ways authentic stories about underrepresented experiences are being brought to visual form.
Producers should pay attention to this movement, especially as audiences continue to challenge Hollywood's lack of diversity in front of the camera and behind the scenes through the #OscarsSoWhite campaign.
Book adaptations are nothing new. Lists featuring books coming soon to TV and film draw excitement every year, but they are often very white. In the past, there have been a few successful exceptions for authors of color.
For instance, Lee Daniels' Precious (2009) was adapted from black author Sapphire's 1996 novel Push. The film was nominated for six Oscars, with Mo'Nique winning best supporting actress for her portrayal. There was also The Namesake by Indian-American author Jhumpa Lahiri. The work was adapted for film in 2006 by Indian-American director Mira Nair. Another honorable mention is The Color Purple, the 1982 book written by black author Alice Walker. Steven Spielberg directed the 1985 film, which was nominated for 11 Oscars, though it won none.
Presently, reboots seem to be the trend for television. But perhaps producers should revisit untold storylines from books by authors of color for fresher ideas and inspiration. These visual projects are not only bringing new stories to light, but they give opportunities to actors and directors of color to tell these stories in a genuine manner. The good news is a growing list of books penned by authors of color are already doing this. Take a look at projects in development or recently released that are ahead of the curve.
Americanah by Chimamanda Ngozi Adichie
Just off the worldwide success of Black Panther, Lupita Nyong'o and Danai Gurira are executive producing a miniseries based on Adichie's 2013 Americanah. In the novel, a young woman named Ifemelu leaves Nigeria to attend college in America, where she is forced to deal with racism in the U.S. for the first time.
Nyong'o and David Oyelowo are reportedly playing lead, while Gurira is writing the screenplay, Nyong'o told Extra in January. Nyong'o, who is a Mexican-born Kenyan and attended college in the United States, and Gurira, who is Zimbabwean-American, are sure to produce an accurate depiction of Americanah's themes surrounding modern African identity. There is no expected release date for Americanah yet.
Little Fires Everywhere by Celeste Ng
Bibliophiles Reese Witherspoon and Kerry Washington are executive producing an adaptation of Celeste Ng's bestselling novel Little Fires Everywhere. Witherspoon and Washington will also star in the limited series they are currently pitching to streaming services and networks, Deadline reported.
In the 2017 novel, the lives of the Richardsons change after newcomer Mia Warren moves to their liberal Cleveland suburb, Shaker Heights. The Richardson children and Warren's daughter, Pearl, become friends. But Elena Richardson, the mother of the picture-perfect family, is curious about Warren's mysterious aura and has questions about her life before moving to their town. The story challenges the idea of a post-race society and is inspired by Ng and her experiences growing up as the daughter of Chinese parents, in Shaker Heights, she told the Guardian in 2017.
Dawn by Octavia Butler
Ava DuVernay has done well with book adaptations by women authors. This includes: DuVernay's Own Network series Queen Sugar, adapted from Natalie Baszile's book of the same title; and Disney's A Wrinkle In Time, based on the classic novel by Madeleine L'Engle. Now DuVernay is back at it with Octavia Butler's 1987 Dawn, the first part of Butler's Lilith Brood series.
In the first installment, Lilith wakes up from a 250-year rest on the alien spaceship run by Oankali, an alien race. Nuclear war ruined earth and Lilith is one of the surviving humans preserved by the aliens.
Victoria Mahoney, an African-American woman, will write the series, according to Deadline. Charles D. King's Macro and DuVernay are executive producing. Butler, who paved the way for black women in science fiction, often centered black women protagonists in her work. Tapping her stories for film will give a black actress a chance to be centered in a post-apocalyptic science fiction tale — a rarity.
The Hate U Give by Angie Thomas
Angie Thomas' first novel The Hate U Give (2017), which made the National Book Award longlist, will soon be a feature film.
The fictional tale is about 16-year-old Starr, who witnessed her best friend Khalil die at the hands of police. Starr lives in a predominantly black neighborhood but attends a predominantly white private school on the other side of town. She already lives between two worlds, but the incident creates more intense obstacles. The story was inspired by the Black Lives Matter movement and Thomas' desire to bring more stories to the young adult genre that centered black teens' experiences, she told Teen Vogue in March 2017.
The film adaptation began filming in September. Amandla Stenberg is Starr and Algee Smith plays Khalil. The star-studded cast also includes Regina Hall, Issa Rae and Common. George Tillman Jr. is directing. The Hate U Give premiere date has not yet been announced.
To All The Boys I've Loved Before by Jenny Han
Young adult novelist Jenny Han published the first of her To All the Boys I've Loved Before trilogy in 2014. The first novel in the series takes us inside the mind of 16-year-old Lara Jean, who writes love letters to her crushes. Jean keeps the notes in a secret box for her eyes only, but one day they are mailed out to the boys she admires. From that moment, things get complicated for Jean, whose father is white and whose mother was Korean.
In 2014, Will Smith and James Lassiter's production company Overbrook Entertainment acquired rights to the novel's screen adaptation. Han posted the above note to celebrate the opportunity to bring more Asian representation to movies.
Vietnamese-American actress Lana Condor was cast as lead for the film, which began production in July, Variety reports.
"A few months ago when I was on a plane, I was daydreaming about how fun it'd be to act in a romantic comedy, because I don't know of any rom-coms where Asian women are the leads," Condor told NBC News in August. "And now here we are."
Monster by Walter Dean Myers
Prominent black children's author Walter Dean Myers published the best-selling novel Monster in 1999. In the book, Steve Harmon is a 16-year-old boy facing trial for murder. While in juvenile detention, he begins documenting his experiences in the form of a screenplay.
Myers, who published more than 100 books, spent his career focusing on humanizing youth with troubled backgrounds. His desire to give these teens an opportunity to see themselves in literature was fueled by his time in the foster care system growing up in Morningside Heights, Manhattan. Myers said these youth "want to read these stories, because they want to know they're going to be OK," he told Christian Science Monitor in 2012.
Now Myers' dream is also a feature film directed by Anthony Mandler. Known for his music video and commercial work, Mandler made his feature-length premiere with Monster at the Sundance Festival 2018. Kelvin Harrison Jr. portrays Steve, and Jennifer Hudson and Jeffrey Wright play Mrs. and Mr. Harmon. Tonya Lewis Lee and Nikki Silver's ToniK Productions, John Legend's Get Lifted Film Co. and Bron Studios are the producers behind the film.
Crazy Rich Asians by Kevin Kwan
Kevin Kwan's Crazy Rich Asians (2013) is one of the most highly anticipated book-to-film adaptations of 2018. In the story, Rachel Chu is a Chinese-American New York University professor who is dating Nicholas "Nick" Young, a Singaporean professor at New York University. Young takes Chu to meet his rich family in Singapore for the summer, but Rachel has no clue what's in store because Nick has withheld details about how wealthy his family really is.
To bring the story to movie format, producers called on Asian creators. Jon M. Chu, whose mother came from Taiwan and whose father came from Hong Kong, directs, and the film scriptwriter is Adele Lim, who was born in Malaysia. The film stars Taiwanese-American Constance Wu as Rachel and newcomer Henry Golding, who is of Malaysian, Singaporean, and British descent. In May, Kwan told Cosmopolitan what it means to work on a film with all-Asian cast.
"The movie has transformed into something else — beyond even just a movie. It's become symbolic of what happened in the past in Hollywood, all the whitewashing. This is going to be the lightning rod, I'm very conscious of that, Jon Chu is extremely conscious of that. That's why he wanted to do the movie in the first place. As an Asian-American director, he really wanted to make a statement with this film."
The movie hits theaters Aug. 17.
Like Water for Chocolate by Laura Esquivel
Mexican author Laura Esquivel found major success with her first novel Like Water for Chocolate (1989). It became a bestseller and was adapted for the award-winning 1992 Spanish-language film Como Agua Para Chocolate.
The novel uses magical realism to tell the coming of age story of Tita de la Garza who grows up on a ranch in a small village near the U.S.-Mexico border. Garza was born in the kitchen, a detail that is used to explain her love for cooking and why she grows up to be a master chef. But she also has the power to transfer emotions she's feeling into the food she's cooks, and as a result, others feel her emotions too.
In March 2017, Endemol Shine Studios North America announced it would be reviving Tita's story. The company is working on an English-language TV series based on the book for a "global television franchise," Deadline reports. The cast and crew have not been announced yet.