Unreliable sources: A look at the worst media moments this week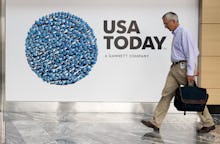 The news this week was dominated by talk of possible gun control measures, along with a flurry of stories about turmoil in the White House following communications director Hope Hicks' unexpected resignation. Across the media landscape this week, some reporting and commentary was rife with mischaracterizations or flat-out falsehoods. Here's a look at some of the more cringe-worthy takes and media mistakes from this week.
USA Today runs op-ed from InfoWars conspiracy theorist
Amid a renewed national conversation about gun control, news outlets have sought out a variety of opinions on the various facets of the national gun control debate that has swelled in the long wake of the Feb. 14 Parkland, Florida, shooting.
One of those news outlets was USA Today, which on Tuesday ran an "opposing view" column arguing that if teachers and school staff "are predisposed to be comfortable with concealed carry," they should be allowed to carry concealed weapons so that "would-be" school shooters "can be neutralized." Most education groups have expressed strong opposition to the idea, but the idea has some support among the general public.
It's not unusual that the site ran a column that articulated the particular points that it did; the paper has long attempted to avoid offense or controversy by avoiding political endorsements (although it has "disendorsed" candidates on occasion) and through its "opposing view" column, which is intended to serve as a counterpoint to the stances taken by the paper's editorial board. In fact, USA Today's editorial board on Tuesday took the opposing stance that teachers should not, in fact, be armed in the classroom.) But what seemed particularly strange to many observers was the author of the column itself: a notorious conspiracy theorist who works for the far-right conspiracy site InfoWars.
Jerome Corsi, the Washington bureau chief for the conspiracy website, is somewhat infamous for peddling various conspiracy theories, including the racist birther theory popularized by now-President Donald Trump that former President Barack Obama was not born in the United States. Corsi, who is the author of a number of conspiratorial and factually inaccurate books, was kicked off of YouTube Thursday after the company terminated his account for violating its rules.
Corsi's background, though, could have easily gone unnoticed by a casual reader of USA Today. The paper did not provide details of Corsi's involvement with InfoWars in the original column posted Tuesday. Instead, Corsi was identified as an "investigative journalist" and the "author of Killing the Deep State: The Fight to Save President Trump."
After facing widespread criticism for failing to identifying Corsi, USA Today updated its column on Wednesday with an additional line of information about Corsi: "He heads the Washington bureau of Alex Jones' InfoWars." USA Today still offered no explanation as to what, in fact, InfoWars is at the time of this column's publication.
Should Corsi's history as a conspiratorialist have disqualified him from appearing in the most widely circulated paper in the country? Apparently, USA Today didn't grapple with that question, because they didn't know who he was. USA Today editorial page editor Bill Sternberg told Poynter that the staff involved in vetting and publishing Corsi's submission did not know of Corsi's entire background, and that in light of the controversy the paper would consider whether the pages' vetting procedures could be improved.
Information about Corsi's background and his penchant for fact-free conspiracies can be found easily using a cursory Google search of his name.
Corsi, who has just lost his platform on YouTube, should thank USA Today for lending him the paper's credibility and for giving him access to the paper's massive audience. In this case, USA Today did Corsi — and InfoWars — a huge favor.
Fox News contributor makes bogus claim that Navy SEALs couldn't breach border wall prototype
This week, a U.S. District Court judge effectively paved the way for the construction of a border wall along part of the United States' southern border, a blow to environmental groups who argued that the Trump administration was overstepping its authority by waiving requirements for determinations of the environmental impact of the wall's construction.
The news does not mean the wall's construction is imminent — there are still no federal funds for the wall's construction, after all — but the ruling was a win for the Trump administration and was subsequently hit on conservative media.
On Wednesday, during a discussion on the Fox News program Outnumbered about the wall, Fox News contributor Katie Pavlich made the jaw-dropping claim that Navy SEALs had been unable to breach prototypes of the border wall, which were constructed in San Diego and went through rounds of testing in January.
"The special forces operatives and members of our Navy SEAL community were asked to try and breach the wall, and they could not do it," Pavlich, who is also a columnist for the website the Hill, said. " … So that tells you that they're doing the job that they're supposed to do."
Pavlich's comments immediately raised eyebrows. Was it really possible that Navy SEALs — some of the most highly trained members of the U.S. military — were unable to breach a wall?
No, in fact. A U.S. Naval Special Warfare Command spokesperson told the San Diego Union-Tribune that no U.S. Navy SEALs were involved in testing the prototypes.
Even before the spokesperson debunked the claim, Pavlich's comments were roundly mocked. Some conservative pundits said that the suggestion was offensive to the military.
"So 7 years ago, SEALs modified helicopters for stealth, inserted themselves unannounced under cover of night into the town that hosts Pakistan's military academy, breached a compound to execute Osama bin Laden and now we're meant to believe a wall befuddles them," Daily Beast national security correspondent Spencer Ackerman tweeted. "… What a grift."
Pavlich may have mixed up the comments in reference to a January report that military special forces spent a total of three weeks in January trying a variety of methods — jackhammers, saws, and the like — to try to breach eight border wall prototypes. That test concluded that high walls that are hard to climb would likely be the best deterrent.
If nothing else, the gaffe is a reminder that live television is a tough medium, and that Twitter is a tough crowd.
Snopes fact-checks obvious joke story, causing Facebook to threaten satire site
Snopes, which has taken it upon itself to be the arbiter of truth in a fake-news-filled reality, has been a useful source for journalists, the general public and for major platforms, who use information from the fact-checker to determine what is real news and what is fake news.
But the fact-checking website's decision this week to flag an obviously satirical post as false prompted Facebook to warn a satirical publication that it could be punished for publishing "disputed" information.
The article that Snopes sought to debunk came from the Babylon Bee, a site that describes itself as a "trusted source for Christian news satire." The article in question? "CNN purchases industrial-sized washing machine to spin news before publication."
"In order to aid the news station in preparing stories for consumption, popular news media organization CNN purchased an industrial-sized washing machine to help its journalists and news anchors spin the news before publication," the article began.
Snopes' debunking led with the headline, "Did CNN purchase an industrial-sized washing machine to spin news?" which feels like another punchline.
Perhaps the debunk was useful for the handful of people who didn't get the joke. But Snopes' scrutiny on the Babylon Bee's post caused an unfortunate chain reaction in which Facebook ended up threatening to demonetize the site. Facebook, using the Snopes debunk as evidence that the Bee was not trustworthy, sent a note to Bee's Facebook page administrator warning that "repeat offenders will see their distribution reduced and their ability to monetize and [advertise] removed."
"Really, Facebook?" tweeted Adam Ford, who launched the Babylon Bee in 2016.
Facebook on Friday said the whole situation was a mistake.
"There's a difference between false news and satire," Facebook said in an emailed statement. "This was a mistake and should not have been rated false in our system. It's since been corrected and won't count against the domain in any way."
The incident highlights some of the problems Facebook continues to face when trying to tackle the problem of fake news and disinformation appearing on its site. Satire, of course, is not fake news intended to mislead people — it's a joke. And even when Snopes noted in its debunk that "it should have been obvious" that the post was just a "spoof," Facebook missed that context and took the joke quite seriously.
The challenge Facebook faces, made evident in the case of the Bee, is that fake news stories and satirical posts, from an algorithm's perspective, can be hard to tell apart. The distinction lies in the intent of the post rather than in the presence of false information. The washing machine in the Bee's article is of course not meant to be taken at face value. But that context is often lost to algorithms that publishers rely on. And while Facebook's reliance on Snopes as an independent fact-checker seems well-intentioned, Facebook was in this case unable to immediately differentiate between Snopes' debunking of a joke and Snopes' debunking of a fake news article intended to mislead people.
It's not the first time Facebook has struggled to figure out how to handle satirical news on the site. In 2014, after a proliferation of hoax news — and after numerous occurrences of people taking headlines from the satirical publication The Onion quite literally — Facebook rolled out a "satire" tag.
It's good that Facebook corrected its mistake. Lumping satire sites like the Bee in with disinformation sites, whether intentionally or not, could threaten the sites' financial stability, and Snopes and Facebook have more power than they may realize when labeling a benign joke as being something more insidious. Both sites must use greater caution so as not to harm small publishers, even inadvertently.