Accused child molester Roy Moore says he's broke, asks for donations to his legal defense fund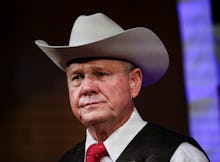 Roy Moore — the accused child molester who unsuccessfully ran for Jeff Sessions' former senate seat — is publicly begging for money because his "resources have been depleted" by his legal fees.
In a bizarre Facebook post this week, the extreme ex-judge — who says he "does not profess to be a hero" — linked the legal challenges he's facing from "lawyers in Washington, D.C., and San Francisco" to what he's describing as an attempt by the "unholy forces of evil" to "destroy our country."
"Gays, lesbians and transgenders have joined forces with those who believe in abortion, sodomy, and destruction of all that we hold dear," Moore, who received an unreserved endorsement from President Donald Trump in 2017, wrote Thursday. "Unless we stand together we will lose our country."
Moore defeated Luther Strange — the candidate preferred by the establishment — to secure the Republican nomination for the Alabama special election. The way-right conservative seemed poised to coast to an easy victory in the state, which hadn't sent a Democrat to Washington in a quarter of a century, until the Washington Post last fall published the account of a woman who said he had been molested by Moore when she was 14 and he was 32 back in 1979.
Several other women also accused him of pursuing relationships with them when they were teenagers.
Moore denied the claims against him, which was apparently enough for Trump — who has been accused of sexual assault himself — to stand by the Alabama conservative.
"We need somebody in that Senate seat who will vote for our Make America Great Again agenda," Trump said in December. "So get out and vote for Roy Moore."
Despite Trump's endorsement, Moore was defeated by Democrat Doug Jones — and the president, as he always does, threw him under the bus to save face.
"I said Roy Moore will not be able to win the General Election," Trump tweeted. "I was right!"
Now, Moore says, he's facing legal challenges that could cost him upward of $100,000.
"I'm sure that you cannot imagine how this has taken a toll on my wife, my children, and even my friends," Moore wrote. "My resources have been depleted and I have struggled to make ends meet, but I have not lost my faith in our God, who is our true source of strength and will never leave or forsake us."
Moore, who during his campaign repeatedly attacked the LGBTQ communities and suggested that America was last great under slavery, says he'll keep on fighting, though — as long as you contribute to his legal defense fund.
"The political Left is filled with men and women whose sole aim in life is to overthrow our God-ordained rights which are guaranteed in the U.S. Constitution," Moore wrote. "It is your responsibility and mine to stand up to this vile encroachment on our rights, and defend that for which the Founding Fathers sacrificed so greatly. Please send a generous gift today to the Roy Moore Legal Defense Fund to help me defeat, once and for all, those who would destroy America in order to usher in their anti-Christian 'kingdom.'"