Man who shot himself outside White House is dead, Secret Service confirms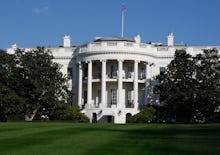 A man who authorities say shot himself along the north fence of the White House Saturday has died, the Secret Service has confirmed.
In a statement, the Secret Service said the man shot himself in the head after pulling out a concealed handgun near the North White House fence. He fired off several rounds, though none appeared to have been "directed toward the White House," the statement said.
According to CBS News, authorities have been treating the situation as a suicide attempt.
The White House was placed on lockdown following the shooting and President Donald Trump — who is currently in Florida visiting his Mar-a-Lago golf resort — has reportedly been briefed on the situation.
The incident Saturday came just over a week after a 35-year-old woman was arrested for allegedly ramming a vehicle into a security barrier outside the White House.
The woman, identified as Jessica Ford, was apparently known to authorities.
Trump, who was in the White House at the time of the Feb. 23 incident, thanked the Secret Service afterward.
Saturday's shooting outside the White House also comes amid a renewed gun control debate following last month's deadly shooting at a Florida high school.
This is a breaking story and will be updated.
March. 3, 2018, 2:53 p.m.: This story has been updated.