Trump defends impulsive trade war in bizarre Mar-a-Lago Twitter rant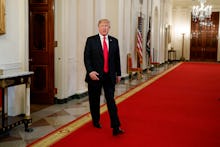 President Donald Trump took aim at the European Union and "very stupid" trade deals of the past in a Twitter rant Saturday defending the trade war he impulsively announced earlier this week.
"Our jobs and wealth are being given to other countries that have taken advantage of us for years. They laugh at what fools our leaders have been," Trump tweeted. "No more!"
Trump's tweets, which he fired off on Saturday while at his Mar-a-Lago estate in Florida, seemed to be in response to threats from EU leader Jean-Claude Juncker on Friday to put tariffs on Harley-Davidson motorcycles, Levi's jeans and bourbon whiskey.
"None of this is reasonable, but reason is a sentiment that is very unevenly distributed in this world," Juncker said.
In one tweet Saturday, Trump shot back at the EU, saying that "already massive tariffs and barriers" on American companies "make it impossible for our cars (and more) to sell there."
"Big trade imbalance!" he said, threatening to "apply a tax on their cars which pour into the U.S."
All of this started Thursday, when Trump suddenly announced that he would be "instituting tariffs next week" during a meeting with business leaders at the White House.
The White House claimed the move — which stunned members of his own party — was planned and "something the president has wanted to do for quite some time."
But officials told NBC News on Friday that Trump had been "unglued" over White House tumult at the time he called for the trade war and that he made the announcement because he was "angry and gunning for a fight."
According to NBC News, Trump was furious about the testimony Hope Hicks, his outgoing communications director, gave to Russia investigators on Capitol Hill earlier this week; frustrated with Attorney General Jeff Sessions; and angered at the treatment of Jared Kushner, his son-in-law and senior adviser, by chief of staff John Kelly.
The announcement blindsided officials at the State, Treasury and Defense departments, according to the report.
But Trump has attempted to put a positive public spin on the move, which his fellow Republicans have criticized in recent days.
"Trade wars are good, and easy to win," Trump tweeted Friday.