Behind closed doors, Trump joked about ending term limits for U.S. presidents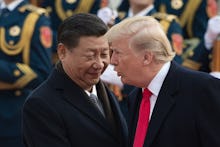 At a private fundraiser at his Mar-a-Lago estate Saturday, President Donald Trump delivered free-wheeling remarks on the 2016 election, his predecessor George W. Bush — and a recent move by Chinese President Xi Jinping.
During the president's closed-door remarks for Republican donors, as reported by CNN, the president commented on China's potential move to end term limits on presidents, which would enable Xi to rule for life.
"He's now president for life. President for life. No, he's great," Trump said about Xi. "And look, he was able to do that. I think it's great. Maybe we'll have to give that a shot some day."
The Chinese government is expected to vote Monday on ending the country's constitutional two-term presidential limits, which have been in place since 1982. Trump has previously praised the Chinese president and their relationship, saying in a December interview with the New York Times, "I like very much President Xi. He treated me better than anybody's ever been treated in the history of China."
Xi is the latest strongman leader to earn Trump's praise, as the president has previously flattered such state heads as Russian President Vladimir Putin and Turkish leader Recep Tayyip Erdogan. In May, Trump praised President Rodrigo Duterte of the Philippines for doing an "unbelievable job on the drug problem" — a problem that the leader has dealt with through state-led killings that have left more than 12,000 dead.
Trump's Mar-a-Lago remarks also included a hit at former opponent Hillary Clinton, as he wondered if the former secretary of state is "happy."
"Is Hillary a happy person? Do you think she's happy?" Trump said. "When she goes home at night, does she say, 'What a great life?' I don't think so. You never know. I hope she's happy."
According to CNN, Trump's remarks appeared to reflect a "deeply felt resentment" that Clinton's actions during the 2016 election are no longer of concern while his, which potentially include collusion with the Russian government, are still under scrutiny.
"I'm telling you, it's a rigged system folks," Trump said. "I've been saying that for a long time. It's a rigged system. And we don't have the right people in there yet. We have a lot of great people, but certain things, we don't have the right people."
Democrats weren't Trump's only target during the fundraiser speech, as the president also took aim at his Republican predecessor George W. Bush. Trump said during the speech that the invasion of Iraq amounted to nothing but "throwing a big fat brick into a hornet's nest," calling Bush's decision to invade the country "the single worst decision ever made."
"That was Bush. Another real genius. That was Bush," Trump said sarcastically, according to CNN. "That turned out to be wonderful intelligence. You know? Great intelligence agency there."
"Here we are, like the dummies of the world, because we had bad politicians running our country for a long time," Trump added.