Trump made a joke about Melania dumping him at the Gridiron dinner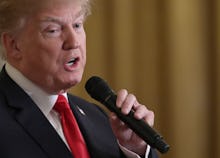 President Donald Trump has never shied away from taking aim at his opponents, but in a lighthearted speech at Saturday's Gridiron dinner, the president delivered self-deprecating remarks on his administration and its current woes.
"My staff was concerned that I couldn't do self-deprecating humor, and I told them not to worry, nobody does self deprecating humor better than me," Trump quipped Saturday, as quoted by CNN.
The annual Gridiron dinner, which has taken place since 1885, is a formal gathering of politicians and journalists featuring speeches, skits and songs. In 2017, Trump refused to attend the dinner, which has been attended at least once by every president except Grover Cleveland, NBC News noted.
During his speech, Trump was quick to joke about the key figures in his administration. The president said that his party had arrived late "because Jared [Kushner] could not get through the security," adding that he offered Attorney General Jeff Sessions "a ride over and he recused himself."
"Lately, [Vice President Mike Pence has been] showing a particularly keen interest in the news these days," Trump said. "He starts out each morning asking everyone, 'Has he been impeached yet?'"
The speech came at the end of a tumultuous week in the White House, which included the much-publicized exit of communications director Hope Hicks. Trump didn't avoid the subject of his recent staff changes during the lighthearted speech — and even speculated who could be next.
"I like turnover. I like chaos. It really is good. Now the question everybody keeps asking is, 'Who is going to be the next to leave? Steve Miller or Melania?'" Trump said.
"That is terrible honey, but you love me, right?" Trump continued, directing his comments to the first lady. "I wont tell you what she said. She said, 'Behave.' ... Is that terrible?"
The president compared his current role to his turn on the reality television series The Apprentice, joking, "In one job I had to manage a cutthroat cast of characters, desperate for TV time, totally unprepared for their roles and their jobs and each week afraid of having their asses fired, and the other job I was the host of a smash television hit."
Trump also took aim at some of the departed members of his administration, saying that former chief strategist Steve Bannon "leaked more than the Titanic."
"As I'm sure you've seen, we're now riding very high in the polls, which is hard to believe considering I never get any good press," Trump said. "But, I just hit 50 in the Rasmussen poll. A lot of people said I wouldn't be able to do so well after losing my so-called chief strategist. But somehow, we're still doing great without Omarosa."
Trump even remained self-deprecating about his standoff with North Korean leader Kim Jong Un, saying, "I won't rule out direct talks with Kim Jong Un. I just won't. As far as the risk of dealing with a madman is concerned, that's his problem, not mine."
Of course, Trump wasn't without harsh words for his Democratic opponents, referring to House Minority Leader Nancy Pelosi as "crazy" and suggesting he would "would kick [Joe Biden's] ass like no other," referring to the former vice president as "sleepy Joe."
The heavy journalist presence at the Gridiron dinner, however, gave Trump an opportunity to hit back at the so-called "fake news media," which he had previously attacked on Twitter Saturday afternoon.
"It might be hard for you to believe, but I do love gatherings like these," Trump said Saturday. "They give you a chance to socialize with members of the opposition party, it's very important. And it's also great to see some Democrats here also."
The president praised allies Fox News, calling them the "fourth branch of government" and proposing a way to curb global warming: "We're going to reduce the carbon footprint when we travel by shrinking the press pool so we only have room for Sean Hannity, Lou Dobbs and Judge Jeanine."
Trump also took aim at the New York Times and "Fake News CNN" before ending the speech saying he had to be "up early" to watch Fox and Friends, though he noted the evening had been "one of the best times I can ever remember having with the media."
"This might be the best night I've had since watching your faces on election night," Trump said.