West Virginia teachers strike continues as state Senate strikes down 5% pay raise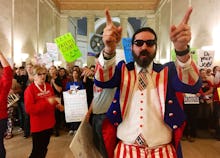 The West Virginia teachers strike is set to continue into Monday after Senate lawmakers in the state legislature voted Saturday night to approve a 4 percent raise for the teachers instead of 5 percent as they have demanded.
"At this point, the three organizations announce that we are out indefinitely — we will not accept the 4 percent," Dale Lee, president of the West Virginia Education Association, said Saturday on behalf of the WVEA, the state arm of the American Federation of Teachers and the West Virginia School Service and Personnel Association, according to the Charleston Gazette-Mail. "Until this bill passes at 5 percent, we will be out indefinitely."
Teachers in West Virginia have been striking since Feb. 22 to demand an increase in pay. The state's teachers are the 48th lowest earning in the nation, according to data from the National Education Association, with an average salary of $45,622.
The strike began after lawmakers imposed a more modest increase of 1 percent, Vox noted — an amount teachers said wouldn't cover cost-of-living and health care increases, particularly after the state announced that many teachers would see a rise in their health insurance premiums.
"I take care of the bills in my family and knew I can't afford it, I can't. I have two children, I live paycheck to paycheck. When I realized that they were taking hundreds of dollars and then they tried to tell me they were giving me a pay raise of 1 percent, I knew I can't just sit back. I can't be complacent, something has to change," Katie Endicott, a high school English teacher from Gilbert, West Virginia, told the New York Times.
According to the Associated Press, the strike has affected 277,000 students and 35,000 employees. All 55 school districts in the state have been shut down during the strike, Vox noted.
On Tuesday, West Virginia Gov. Jim Justice announced a deal that would give teachers and other state employees a 5 percent pay raise, sparking speculation that the strike would come to an end. The teachers, however, are now continuing to strike and keep schools closed until the state legislature comes through on its commitment.
While the 5 percent raise has passed the state's House of Delegates, it has been rebuffed in the West Virginia Senate. On Saturday night, the Senate mistakenly voted to approve the House's 5 percent pay increase — only to realize its mistake, repeal the legislation and pass a 4 percent pay increase instead. The two legislative bodies will now have to reconcile the two bills, the AP noted, and it is unclear when that process will take place.
"We want the promises that we were issued to be fulfilled," Brandy Conrad, a teacher from Boone County, told the New York Times.