#MeToo founder Tarana Burke says E! 'shouldn't send' Ryan Seacrest to the Oscars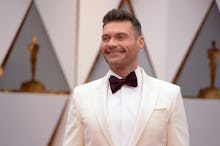 On Sunday, Hollywood will celebrate the Academy Awards amid the ongoing wave of sexual misconduct allegations that has rocked the industry — and the awards ceremony's red carpet won't be immune to the controversy.
Ryan Seacrest is set to lead E! News' red carpet coverage Sunday amid recently surfaced allegations against the longtime host. Seacrest has been accused of "unwanted sexual aggression," including sexual assault, by former E! stylist Suzie Hardy, who alleged she lost her job at the network in 2013 only after reporting the host's behavior to human resources.
The host has denied Hardy's accusations, and the network conducted an investigation that found "insufficient evidence to support the claims against Seacrest."
Seacrest's role in E!'s Oscars coverage, however, has still come under fire. In an interview with Variety, #MeToo founder Tarana Burke addressed Seacrest's Oscars appearance, saying that E! shouldn't be sending the host to the Oscars and forcing actresses — many of whom have been victims of sexual misconduct themselves — to decide whether or not they will speak with Seacrest.
"They really shouldn't send him [to the Oscars]," Burke told Variety. "We shouldn't have to make those choices of, 'Do we or don't we?'"
"This is not about his guilt or innocence," Burke added. "It's about there being an accusation that's alive, and until they sort of out, it's really on E! News and shouldn't be on us. … It will let us know where they stand in terms of how respectful E! News is of this issue — and of women."
According to recent reports, the allegations against Seacrest may have a noticeable effect on the red carpet. Though host Jimmy Kimmel told Variety he'll speak with Seacrest, actress Jennifer Lawrence has said that she's unsure whether she'll speak with the host on the red carpet. And Lawrence likely wouldn't be the only one to avoid Seacrest: Hollywood publicists cited by Page Six have suggested they'll be steering many clients, particularly those involved with the #MeToo movement, away from speaking with Seacrest.
"I'll be shocked to see who stops to talk to Ryan," one publicist who represents A-list celebrities told Page Six. "He's in trouble."
This won't be the first time E! has faced drama on the red carpet. The network previously faced a backlash after former host Catt Sadler reportedly left the network over unequal pay. The pay discrepancy was criticized on the network during its Golden Globes red carpet coverage by such celebrities as Debra Messing and Eva Longoria, and producer Aileen Gram-Moreno claims to have been let go by the network for allowing Longoria's pre-recorded interview to air.
Rival broadcast Access Hollywood will reportedly also keep the talk of Seacrest's alleged behavior alive. According to Page Six, the broadcast's hosts have been directed to ask celebrities about the #MeToo movement as well as whether or not they will speak with Seacrest.