'Coco' wins Oscar for best animated film at the Academy Awards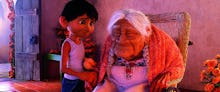 At Sunday night's 90th Academy Awards, Disney Pixar's Coco, a fantasy film centered on a Mexican boy's journey into a Día de los Muertos underworld, won the Oscar for best animated film. The win and acceptance speeches drove home a message of cultural inclusion that pervaded the awards ceremony more generally. Anyone who's watched the Oscars is used to seeing Pixar collect the animated film trophy, but the speeches for Coco were more culturally savvy than usual.
"With Coco, we tried to take a step forward toward a world where all children can grow up seeing characters in movies that look and talk and live like they do," Coco's director Lee Unkrich said, accepting the award. "Marginalized people deserve to feel like they belong. Representation matters."
The rest of the speeches drove that particular theme home: The other two people on stage — Adrian Molina, Coco's co-director, and Darla K. Anderson, Coco's producer — thanked their same-sex spouses.
That was a message not lost on the folks live-tweeting the ceremony on Twitter:
Coco's "Remember Me" also won the Oscar for best original song a short time later.
March 4, 11:06 p.m.: This story has been updated.