Jordan Peele wins Oscar for best original screenplay for 'Get Out'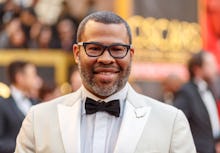 Jordan Peele took home the Oscar for best original screenplay for his directorial debut, Get Out, at the 90th Academy Awards on Sunday night.
"This means so much to me," Peele said onstage as he accepted the award. "I stopped writing this movie about 20 times because I thought it was impossible. I thought it wasn't going to work."
"I want to dedicate this to all the people who raised my voice and let me make this movie," he added.
The film tells the story of a black man (Daniel Kaluuya) who goes home to meet the family of his white girlfriend (Allison Williams). Although the seemingly well-meaning family is initially welcoming and "woke," their true intentions are soon revealed, and the film quickly morphs into a gripping thriller, as well as a biting social commentary on race relations in America and the myth of the "good white liberal."
Peele is the first black person in the ceremony's 90-year history to win in the category, and only the fourth black person to be nominated. He is preceded by Suzanne de Passe (1972's Lady Sings the Blues), Spike Lee (1989's Do the Right Thing) and John Singleton (1991's Boyz n the Hood). He is also the first black man ever to be nominated for the Oscars "trifecta" — best picture, best director and best original screenplay — for a directorial debut.