Guns are not on Washington's agenda. Can protests and corporations force Congress to act?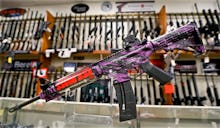 Welcome to Mic's daily read on Donald Trump's America. Want to receive this as a daily email in your inbox? Subscribe here.
Monday's dispatch: Gun reform talk gone, for now
President Donald Trump is focused on attacking Barack Obama and Hillary Clinton. Top Republicans in Congress have not said publicly if they plan to return to gun reform legislation this month. This week will be focused on passing legislation in the Senate to deregulate banks.
The U.S. gun reform debate, which captured America's attention over the past few weeks following the mass shooting at Marjory Stoneman Douglas High School in Parkland, Florida, is perhaps at the highest level since the 2012 Sandy Hook Elementary School mass shooting. The debate now enters the period that is typical following a mass shooting, where politicians and media end consistent discussion of gun reform.
In recent days, politicians have moved away from serious consideration of comprehensive gun reform bills. Trump held a White House meeting last week where he suggested passage of gun control measures were on the table. Chris Cox, the National Rifle Association's top lobbyist, pivoted the president away from banning certain guns. Then, the White House walked back Trump's support of universal background checks.
It's unclear what reforms Trump does in fact support, though his administration has indicated continuing support for the Fix NICS legislation in the Senate that would improve the existing background check system. The bill would not close loopholes that allow millions of gun sales annually without a background check.
This comes despite polls showing near record levels of Americans support Congress passing gun reform measures, like universal background checks or banning sales of guns like the semi-automatic AR-15 military-style rifle. Hundreds of thousands of high schoolers are expected to walk out of school on March 14 and April 20 to demand stronger gun laws. The March for Our Lives on March 24, spearheaded by survivors of the Marjory Stoneman Douglas High School shooting, will draw hundreds of thousands of people to the streets of Washington to demand passage of gun reform laws.
Engagement with organizations that focus on gun reform has also surged since the Parkland shooting. Everytown for Gun Safety told the Guardian it now has 5.2 million supporters, more than the 5 million members the NRA claims. Shannon Watts, founder of Moms Demand Action, the grassroots arm of Everytown, told the Guardian her organization has held 600 grassroots events since the Parkland shooting and added 10,000 students to the newly formed Students Demand Action.
According to CNN, 19 companies have now cut ties with the NRA or changed their policies linked to selling guns in the wake of the Parkland shooting. Delta Airlines stood firm in its decision to end a ticket discount for NRA members, which only 13 people had ever used, as Georgia lawmakers stripped the company of a $40 million tax break in protest.
With no serious gun debate planned for Congress, the next few weeks will test whether a wave of grassroots protest and corporate advocacy can force politicians to return to consideration of gun reform bills.
Today's question: Do you think public pressure will renew the gun debate?
Please email us at trumpsamerica@mic.com with your thoughts.
This week in Trump's America:
Banking bill: The Senate is likely to pass a bill this week that would change federal law to limit regulation on banks with less than $250 billion in assets instead of $50 billion. The change is significant because the Dodd-Frank Wall Street Reform and Consumer Protection Act lowered the threshold for increased scrutiny to $50 billion.
When the law passed in 2010, politicians argued too many banks with hundreds of billions in assets were allowed to engage in risky, unmonitored practices that ultimately nearly tanked the U.S. economy. Now, instead of focusing on guns, several Senate Democrats are likely to vote with Republicans to back the deregulation measure. But leading Senate Democrats, like Sen. Chuck Schumer (D-N.Y.), and high-profile senators, like Sen. Elizabeth Warren (D-Mass.), are positioned against the bill and Wall Street.
Tariffs: By the end of the week, the U.S. will impose tariffs on steel and aluminum imported into the country, top Trump administration officials told Politico. That would keep a Trump campaign promise to protect the U.S. manufacturing sector. But it has set off alarms among U.S. allies and American businesses over a possible trade war the tariffs may ignite. That could drive up the prices of any goods imported to the U.S.
Primaries: On Tuesday, U.S. House primaries in Texas will be closely watched to see if Democratic incumbents or establishment-backed candidates fall to progressives. The primaries are the first of the 2018 midterm election season. The Democratic Congressional Campaign Committee has intervened in a Houston-area primary in an attempt to hurt a progressive running for the Democratic nomination.
Special election: Eight days before a special U.S. House election outside of Pittsburgh, Republicans are increasingly resigned to the fact they may lose a district Trump easily carried in 2016. That has major implications for their chances of keeping control of the House after 2018.
Teachers strike: For the eighth day, teachers in West Virginia will strike and keep schools closed as the legislature remains at an impasse over raising teacher pay and benefits. Union leaders say the strike will continue indefinitely. The divide has created a debate about whether corporations that mine West Virginia for coal and natural gas pay enough in taxes to support public employees like teachers.
Reproductive rights: On Friday, the Trump administration triggered a showdown with women's and reproductive rights groups by inviting groups that stress abstinence, not birth control, to receive federal funding in federal family-planning grants. The move also hurts Planned Parenthood, a provider of health care to millions of people seeking reproductive health care — and a top opponent of Trump.
Story to follow: The New York Times reports the State Department has not spent a dollar of $120 million allocated by Congress to fight Russian interference in U.S. elections.
President forever? Trump joked on Friday, behind closed doors with Republican donors, about ending term limits on the presidency.
The judiciary: An important tick-tock from CNN on how far Trump and Republicans have already gone to make the U.S. judiciary more conservative. The Senate is set to confirm three more Trump judicial nominees on Monday.
Syria: Aid convoys have finally reached eastern Ghouta, an area in southern Syria that is one of the final rebel strongholds. Government forces, backed by Russia, have killed hundreds of rebel fighters and civilians through heavy shelling in the area during two weeks of fighting.
Early voting: Democrats in Texas surpassed Republicans in early voter turnout ahead of this year's primary, nearly doubling Democratic early vote turnout from the 2014 midterms.
Opioids: Ten percent of the population in Huntington, West Virginia, is addicted to opioids. BuzzFeed goes inside the drug court in that community to reveal how drug addiction is devastating communities.
Tax law: A new survey from Bankrate finds only 24% of Americans have noticed their paychecks increase as a result of the new GOP-passed tax law.
Today's MicBite:
Contrary to what you might have heard from the NRA, the Founding Fathers would've been just fine with gun control, in the view of this constitutional law expert.
Click or tap below to watch.