The best-dressed at the 2018 Oscars after-parties: Janelle Monáe, Lupita Nyong'o and Zendaya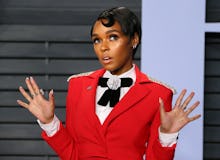 After the Oscars comes, inevitably, the after-parties.
With the Vanity Fair Oscar party dominating the scene, pretty much every major celebrity tries to make their way there, whether they're nominated or not. And what that means for us is we get to see these celebrities in brand new dresses and ensembles, which, for whatever reason, tend to be a bit riskier than the ones we see on the formal Oscar red carpet.
The 2018 Oscar after-parties were no exception. Here are the best looks from late last night:
Donald Glover in Gucci
Greta Gerwig in Dior
Salma Hayek in Gucci
Margot Robbie in Chanel
Gal Gadot
Allison Williams
Ashley Graham
Tracee Ellis Ross in Balmain
Kendall Jenner