'Coco' Oscar winner Robert Lopez is the most awarded person you've never heard of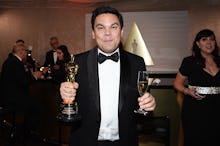 With his Sunday night Oscar win, composer Robert Lopez nailed down a stunning achievement — he became the first person in history to EGOT twice. For the uninitiated, an artist gets an EGOT (it's both a noun and a verb) when they attain a quadfecta of wins: an Emmy Award, a Grammy Award, an Oscar and a Tony Award.
As People magazine reported in 2017, the term's first appearance was in a 1984 interview with Miami Vice actor Philip Michael Thomas, who had the four letters engraved on a gold necklace (Thomas hasn't yet won any of the necessary four awards). An EGOT is, according to People magazine, "the grand slam of show business" and to date, only 12 stars have accomplished the feat. That small crew includes legends like Audrey Hepburn, Rita Moreno and Mel Brooks. Winning all four awards is rare — but, as of Sunday night, Robert Lopez, at only 43, has done it twice.
So who is this double grand-slammer? If you haven't heard Robert Lopez's name, you've certainly heard his work. Lopez and his collaborative partner (and wife), lyricist Kristen Anderson-Lopez, were responsible for the blockbuster soundtrack to Disney's 2013 hit Frozen — including the ubiquitous "Let it Go." It was that song that earned Lopez and Anderson-Lopez an Oscar in 2014 and which granted Lopez the honor of being the youngest person ever to EGOT — he was 38 at the time.
Lopez, a native New Yorker, went to Yale, where he majored in English. After college, he got by through taking temp jobs, eventually moving back in with his parents while he completed the BMI Lehman Engel Musical Theatre Workshop for songwriters. It was there that he met his future wife and writing partner — and where he began working on Avenue Q, the Broadway show that would win him his first Tony.
Lopez earned his two EGOTs with his 2004 Tony for Avenue Q, two Daytime Emmys in 2008 and 2010 for his songs in the animated children's show Wonder Pets, two more Tonys in 2011 for The Book of Mormon, a 2012 Grammy for the soundtrack to The Book of Mormon and two more Grammys in 2015 for his work on Frozen. Those Grammys, along with his two Oscars, were won with Anderson-Lopez, which puts her halfway to EGOT status. The two aren't "exclusive" writing partners and do work with other collaborators, according to a 2013 interview in USA Today.
Sunday night's Oscars, which cemented Lopez' historic double-EGOT, was fun for the whole family — the couple brought their two daughters to the ceremony as their dates for the evening.
Going into the Oscars night that would add yet another gold statuette to his collection, Lopez said he was much less nervous than his first time hitting the awards show circuit. In a February interview with Vanity Fair, Lopez said, "The first time, we were white-knuckling it through these different events filled with famous people and all of this crazy, fancy stuff. We've been through it once before, so we kind of know what to expect and are able to relax a little bit." If he was relaxed before the Oscars, Lopez must be positively zen after his second mega-win.