Paul Ryan comes out against Trump's steel tariffs: "We are extremely worried about the consequences"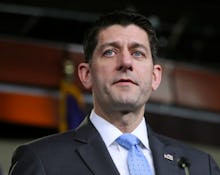 House Speaker Paul Ryan came out against President Donald Trump's steel and aluminum tariffs, saying they could negatively impact the economy.
"We are extremely worried about the consequences of a trade war and are urging the White House to not advance with this plan," AshLee Strong, a spokesperson for Ryan, said in a statement on Monday. "The new tax reform law has boosted the economy and we certainly don't want to jeopardize those gains."
Trump announced on Thursday that he'll impose a 25% tariff on imported steel and 10% tariff on imported aluminum, a move that led the stock market to tumble amid fears of a global trade war.
The issue is dividing Republicans, many of whom say the tariffs amount to a tax on consumers, who could see higher prices in canned goods and automobiles thanks to the changes.
"Tariffs on steel and aluminum are a tax hike the American people don't need and can't afford," Sen. Orrin Hatch (R-Utah), who has praised Trump mightily in the past, said of the tariffs, according to Salt Lake Tribune. "I encourage the president to carefully consider all of the implications of raising the cost of steel and aluminum on American manufacturers and consumers."
GOP Sens. Mike Lee of Utah and Ben Sasse of Nebraska also came out strong against the tariffs.
Lee called the tariffs a "huge job-killing tax hike on American consumers," while Sasse says similar tariffs in the past have caused American families to suffer.
But Trump seems unmoved by those arguments.
"We are on the losing side of almost all trade deals," Trump tweeted on Sunday. "Our friends and enemies have taken advantage of the U.S. for many years. Our Steel and Aluminum industries are dead. Sorry, it's time for a change! MAKE AMERICA GREAT AGAIN!"