After a highly politicized Golden Globes red carpet, the Oscars kept things noticeably quieter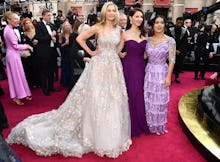 Politics has found its way in to nearly every single major red carpet this season. The Golden Globes sparked not only the all-black dress movement but popularized those Time's Up pins, which have popped up on major red carpets since. The Grammys had those white roses. The BAFTAs followed the Golden Globes' lead and encouraged everyone to wear all black in support of Time's Up and its fight against sexual harassment in the workplace.
But at the Oscars, which are known as Hollywood's biggest night, the political statements came in a much quieter fashion.
In terms of political accessories, the Time's Up pins were still worn on multiple stars of the night, including Elisabeth Moss, Jane Fonda, Patrick Stewart and Bradley Whitford.
In addition to the Time's Up pins, there were the orange American flag pins from Everytown for Gun Safety, which were worn in an effort to raise awareness of gun safety.
Among the most notable wearers of this pin was Lin-Manuel Miranda.
Gun control had actually made its way onto the Oscar red carpet before. In 2015, stars including Bryan Cranston wore bracelets from the #Enough campaign as a way to make a public call to end gun violence in the United States.
With the Parkland shooting now just a little more than two weeks ago, this was a conversation that felt more pressing than ever on an Oscars red carpet, just like it felt more urgent than ever last year, when stars wore blue ribbons in support of the American Civil Liberties Union as the ACLU was fighting hard against the Trump administration and its proposed policies.
In terms of stars using fashion to continue these conversations, that was pretty much it. But in interviews and moments on the red carpet itself, stars used their voices to hint at movements like Time's Up.
Over on ABC's red carpet telecast, Mira Sorvino and Ashley Judd, who were both harassed by Harvey Weinstein and walked the red carpet together perhaps as a sign of solidarity, spoke about Time's Up explicitly.
"This movement isn't stopping, we're going forward until we have an equitable and safe world for women," Sorvino said.
Then on E!, during an interview with Ryan Seacrest, who's been accused of sexual harassment and assault, Taraji P. Henson gave an interview that many people thought alluded to the allegation.
"You know what? The universe has a way of taking care of the good people," Henson said, after being asked about her friend and Oscar nominee Mary J. Blige, who she was set to introduce at the show. "You know what I mean?"
With that last question, Henson touched Seacrest's chin in such a way that many immediately thought that she was shading him, maybe because of the allegation.
But Henson clarified her actions on Monday, telling People that her statement was "misconstrued."
As Robin Givhan wrote in the Washington Post, the red carpet felt more personal than political, with no overarching unification between actresses and actors for one just cause, like we saw at the Golden Globes. The people who chose to wear the pins had a personal investment in that issue, as did the people who chose to speak to the individual movements in interviews.
With the Time's Up movement reportedly raising an astounding $21 million as a result of all this high-profile red carpet attention these past few months, this movement obviously worked in one sense.
But clearly, the fight must continue. Allegations against powerful men in the entertainment industry and beyond continue to roll out. The question is how the red carpet really fits into this and future political discussions.