RuPaul doubles down on transphobic comments, likens transitioning to "performance-enhancing drugs"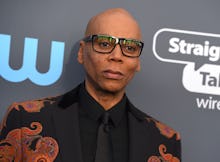 Update: RuPaul has apologized for his comments in a tweet posted Monday evening. The original story follows.
It might be time for RuPaul herself to sashay away.
In an interview with the Guardian published Saturday, drag legend RuPaul Charles made some eyebrow-raising comments in regard to where he draws the line on who can or cannot compete on RuPaul's Drag Race. Specifically, he doubted he'd allow "bio queens" — cisgender women who perform in drag — to compete, along with transgender drag queens who have started any kind of medical transition.
"Probably not," he said, specifically about allowing transgender queens who had had implants onto the show. "You can identify as a woman and say you're transitioning, but it changes once you start changing your body. It takes on a different thing; it changes the whole concept of what we're doing. We've had some girls who've had some injections in the face and maybe a little bit in the butt here and there, but they haven't transitioned."
Ironically, RuPaul's comments undermined assertions he made earlier in the interview about the "punk rock" nature of drag by drawing hard lines in the sand about what does and does not constitute "real drag." It's unclear why Ru is OK with a queen like season nine's Trinity Taylor, who centered her whole verse in "Category Is" around her extensive plastic surgery; and with queens like Peppermint, who is out as trans — but not both at once.
The reaction to RuPaul's initial comments from those closely associated with the show were swift and harsh, with a near-universal backlash against Ru's exclusionary gatekeeping. Fellow judge Michelle Visage responded to a number of fans on Twitter after Ru's interview went live, seeming to come out against his comments. She drove home the message that anyone can do drag.
Similarly, trans and genderqueer queens who have appeared on past seasons of Drag Race — including Peppermint, Sasha Velour, Monica Beverly Hillz, Jiggly Caliente, Gia Gunn and Detox — all posted statements contrary to Ru's comments. Some were explicit about responding to Ru, but others spoke more generally about the importance of trans and non-binary people to the drag world.
Despite the public backlash, RuPaul appeared to double down on his views Monday. In a tweet posted midday, Ru tweeted that taking "performance-enhancing drugs" would disqualify someone from participating in "the Olympics" — in other words, he likened transitioning to something that would prohibit from someone competing fairly in Drag Race.
Needless to say, the responses to Ru's tweet have not been kind.
A few things: It's worth noting that the primary goal of RuPaul's Drag Race has never been to convincingly disguise oneself as a cisgender woman. In no way would a trans queen have any advantages over a cisgender man. Drag Race has always been about performance, the ability to craft and hone a specific character, as well as the ability to improvise and to market oneself. In fact, Sasha Velour herself won Drag Race specifically by reiterating that "gender is a construct — tear it apart."
Also, as uncomfortably outdated as Ru's views appear to be, they should in no way come as any sort of surprise. Despite his well-earned reputation as a pioneer of mainstream drag, Ru has always struggled when it comes to his views on trans issues.
In 2014, Ru responded to outcry over his repeated use of the slurs "tranny" and "she-male" — which, notably, were wiped from recent seasons of Drag Race — in an interview on Marc Maron's podcast, WTF.
"If your idea of happiness has to do with someone else changing what they say, what they do, you are in for a fucking hard-ass road," Ru said, according to Into.
If drag is a "big 'f-you' to male-dominated culture," as Ru alleged in his Guardian interview, why should that not extend to trans and genderqueer people, who — by definition — are eschewing the ideals of the patriarchy, simply by existing? Drag is inherently about inclusion, love and acceptance, specifically for people who are marginalized by existing power structures. By drawing a line between those who can and cannot appear on Drag Race, Ru is dangerously undercutting the message he claims his show is all about.
Mic has reached out to VH1 for comment and will update with any response.
March 5, 10:21 p.m.: This story has been updated.