Former Trump aide says he's ignoring Mueller subpoena: "Let him arrest me"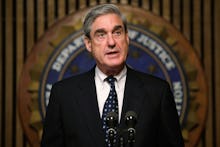 Sam Nunberg, a former campaign aide to now-President Donald Trump, told the Washington Post that he's ignoring a grand jury subpoena from special counsel Robert Mueller's Russia investigation.
Nunberg received a subpoena asking him to testify on Friday before a grand jury in Washington, D.C. The subpoena also demands that Nunberg hand over all communications with 10 Trump campaign officials, as well as Trump himself, Axios reported.
However Nunberg told the Washington Post that he doesn't intend to comply with that subpoena, which could land Nunberg in jail with a contempt charge.
"Let him arrest me," Nunberg told the paper. "Mr. Mueller should understand I am not going in on Friday."
Nunberg on Monday went on MSNBC and said he thinks Mueller "may" have something on Trump.
"I think he may have done something during the election," Nunberg told MSNBC's Katy Tur.
White House Press Secretary Sarah Huckabee Sanders denied Nunberg's claim.
"He definitely doesn't know that for sure because he is incorrect," Sanders said at Monday's White House press briefing.
Nunberg, who served as a political adviser on Trump's campaign, has a contentious history with the president.
Trump fired Nunberg in August 2015 after racially charged social media posts that Nunberg had sent resurfaced. In one post, Nunberg wrote about plans to meet Rev. Al Sharpton and "tell him that his daughter is a nigger N--!" Business Insider reported at the time.
Trump then sued Nunberg for $10 million, alleging that Nunberg leaked a story to the New York Post about a fight between former Trump campaign manager Corey Lewandowski and former White House communications director Hope Hicks.
Nunberg denied he was the leak, and eventually settled the lawsuit out of court.
Still, Nunberg says he won't comply with the grand jury subpoena.
"I'm not spending 80 hours going over my emails with Roger Stone and Steve Bannon and producing them," Nunberg told the Washington Post. "Donald Trump won this election on his own. He campaigned his ass off. And there is nobody who hates him more than me."