Ex-aide says Trump knew about Russia meeting: "I don't know why he went around trying to hide it."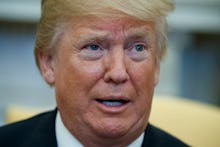 Former Trump campaign aide Sam Nunberg went on a cable news tour on Monday in which he made a series of bombshell claims about the Trump campaign's ties to Russia.
Nunberg said that President Donald Trump knew about a meeting Donald Trump Jr., Jared Kushner and Paul Manafort had in Trump Tower with a Russian lawyer who had ties to Russian President Vladimir Putin.
"He talked about it a week before. And I don't know why he did this. All he had to say was, 'Yeah, we met with the Russians,'" Nunberg told CNN's Jake Tapper on Monday.
"I don't know why he went around trying to hide it," Nunberg added.
Nunberg also said that former Trump campaign aide Carter Page colluded with Russians.
"I believe Carter Page was colluding with the Russians," Nunberg told Tapper.
Nunberg says that he will refuse to cooperate with the subpoena, which also demanded he produce all communications he had with Trump and nine other top members of Trump's inner cirticle .
"Let him arrest me," Nunberg told the Washington Post on Monday. "Mr. Mueller should understand I am not going in on Friday."
Nunberg served as a political adviser to Trump's campaign, but was fired in August 2015 after racially charged social media posts from his accounts resurfaced.
White House press secretary Sarah Huckabee Sanders on Monday denied Nunberg's claim that Trump "may have done something during the election."
"He definitely doesn't know that for sure because he is incorrect," Sanders said at Monday's White House press briefing.
Nunberg responded to Sanders' comment on Tapper's show.
"Sarah Huckabee can attack me again and I'd be more than happy to deal with her face to face," Nunberg said. "I'd be more than happy to go back and forth with her. I think she's terrible by the way."