4 questions the Texas primary elections may begin to answer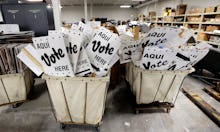 Welcome to Mic's daily read on Donald Trump's America. Want to receive this as a daily email in your inbox? Subscribe here.
Tuesday's dispatch: Your guide to the Texas primaries
Texas holds the first-in-the-nation primaries on Tuesday night. This first election of the 2018 midterm cycle will bring up a variety of questions about the future of U.S. politics. Here are four questions we may begin to see answered after the ballots are counted:
1. Can progressive challengers beat the Democratic establishment? Texas has several highly competitive U.S. House primary contests on the Democratic side. Second only to California in the number of representatives it sends to Congress, Texas has long been a GOP stronghold. Democrats are targeting five of 25 GOP-held House seats in Texas as Republican to Democratic flip opportunities in November.
Nearly all of the primaries for the Democratic nomination in a House race are competitive. Driven by a surge in Democratic candidates, more than twice as many people are running in Texas U.S. House primaries in 2018 compared to four years ago. Some of the races feature as many as seven candidates, as is the case with the 7th Congressional District outside of Houston. There, the Democratic Congressional Campaign Committee tried to tear down Laura Moser — a former journalist whose progressive candidacy has gained traction — by highlighting Moser's prior statement that she did not want to live in Texas. The move drew condemnation from progressive groups, and led some Sen. Bernie Sanders (I-Vt.) allies to back her candidacy.
Results in the 7th Congressional District primary and other competitive races on Tuesday will indicate just how much support progressives are drumming up among the Democratic base.
2. Will the Democratic lead in votes hold? Democrats outpaced Republicans in early voting in Texas' 10 counties with the most registered voters, according to the Texas Tribune. Democrats more than doubled their early voter turnout from four years ago, while Republican turnout increased by about 15%.
About 650,000 Texans voted in advance of Tuesday's primary elections, while a little more than 1.9 million Texans voted during the 2014 March primary elections. A surge in early voting over the 2014 cycle suggests more people will vote overall this year. It will be key for Democrats to maintain, or come close to, holding their lead over the GOP in total primary votes cast. In 2014, nearly 2.5 times more Republicans voted in the March primary than Democrats.
3. How strong is support for Ted Cruz? Rep. Beto O'Rourke (D-Texas) is mounting a grassroots-fueled, insurgent Senate bid to oppose Sen. Ted Cruz (R-Texas) in November. Both are expected to easily move through their primaries on Tuesday. But a diminishing level of support of Cruz by Republican voters would be notable.
This is the first time Cruz has been on the ballot in Texas since he was the most successful challenger of President Donald Trump in the 2016 presidential primaries. Cruz has largely backed Trump's agenda in Washington but may face backlash from ardent conservatives for his initial challenge of the president. Cruz could also draw the ire of moderate Texans who don't approve of Trump after a year into his first term.
A recent poll found about 40% of Texans approve of the job Cruz is doing, while about 40% disapprove. O'Rourke has been outraising Cruz in donations, fueled by online campaigns, and some polls show him within single digits of Cruz.
4. What happens in the suburbs? Because Tuesday's elections are primaries, it will be difficult to draw direct conclusions about how and why certain groups of voters are casting their ballots. But any surge in turnout for Democratic candidates — particularly in suburbs outside of Dallas or Houston — could signal major trouble for Republicans.
Suburban turnout that favored Democrats in northern Virginia helped liberals flip several state House seats in November. A similar trend in Texas would show the suburbs are flipping against the GOP nationwide — a rough sign for Republicans as they prepare to defend their 23-seat House majority in November.
Today's question: What do you expect to learn from voting in Texas?
Please email us at trumpsamerica@mic.com with your thoughts.
Tuesday in Trump's America:
The Nunberg saga: Sam Nunberg, a former Trump campaign aide, told multiple reporters and television programs on Monday that he would not comply with a subpoena from special counsel Robert Mueller. Mueller required Nunberg to produce all personal correspondence with Paul Manafort and Steve Bannon.
Ultimately, Nunberg told the Associated Press he will comply with the subpoena.
Thad Cochran resignation: The senior Mississippi senator announced he will step down from his seat on April 1, citing health concerns. Mississippi Gov. Phil Bryant, a Republican, will now have to fill the seat of the GOP senator. State Sen. Chris McDaniel (R-Miss.) announced Thursday he will take on Sen. Roger Wicker (R-Miss.) in a primary challenge. McDaniel, a staunch conservative who was at one time backed by Bannon, has made no announcement, but he may now seek Cochran's open seat.
North Korea: North Korea is open to talking with the United States and South Korea about nuclear disarmament, potentially bringing a major breakthrough on the issue after months of military standoff between the U.S. and North Korea.
Pennsylvania special election: CNN outlines five reasons why the Democrats may win their first special U.S. House election of the Trump era on March 13. And a new poll shows the Democrat leading in a district Trump won by double-digits in 2016.
Tariffs: House Speaker Paul Ryan (R-Wis.) broke with Trump on Monday, saying tariffs on steel and aluminum imports had Ryan "extremely worried." Goldman Sachs, the investment bank that has spawned several top Trump advisers, also warned tariffs could damage U.S. companies.
That pressure seems to have pushed Trump into considering a compromise on his initial proposal to institute across-the-board tariffs on all steel and aluminum imports.
Meanwhile, in the United Kingdom, Prime Minister Theresa May says she is confident her relationship with the U.S. will mean Britain can secure a favorable trade deal post-Brexit.
Voting for more bailouts? The Congressional Budget Office, a nonpartisan institution that has recently been an antagonist of Republican policy, said a GOP-backed banking bill being considered in the Senate would raise the chance of bank collapse and taxpayer-funded bailouts.
Guns in Florida: The state Senate in Florida voted Monday not to arm teachers but to let others in public schools arm themselves, like librarians.
Arizona Senate: Democrats are hoping Rep. Kyrsten Sinema, a onetime supporter of Ralph Nader and "bomb thrower," can mould herself into a moderate who can please Arizona voters and snatch a Republican Senate seat.
The seal: Trump is reportedly using the presidential seal for financial gain by placing it at Trump properties, which is against federal law.
Voting rights: A Kansas law that requires voters provide proof of citizenship will be challenged in court.
Stormy: Michael Cohen, Trump's personal attorney, paid $130,000 to porn actress Stormy Daniels to keep her quiet about an alleged relationship with Trump. Cohen backed then flagged the payment as suspicious, and Trump's attorney later complained about not being reimbursed.
Today's MicBite:
We're happy to announce Mic's new video columnist, Brittany Packnett! Packnett is an activist, educator and writer who wants to break down cultural conversations — and she wants to hear from you!
Click or tap below to watch.