Body found outside of Santa Fe identified as missing transgender woman Zakaria Fry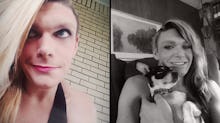 Albuquerque, New Mexico, police confirmed late in February that one of two bodies found outside of Sante Fe that month was Zakaria Fry, 28, a transgender woman who had gone missing in January, local outlet KOB 4 reported. The second victim, who went by the name Carrell Ray on Facebook and was Fry's roommate according to police, was discovered two miles away. It's not yet clear if Ray, 70, also identified as trans.
On Thursday, KOB 4 reported that Albuquerque police had arrested 32-year-old Charles Spiess, also known as James Knight, and charged him with two counts of murder in connection with Fry and Ray's deaths. A police spokesperson told the outlet that Spiess may have been living with Fry and Ray at the time of their deaths.
"They were possibly all rooming together, and that's why we have a lot of evidence at that location," APD Public Information Officer Simon Drobik told KOB 4. "There was a lot of DNA evidence taken, a lot of video evidence, lots of physical evidence ... So it's a massive case and there's a lot of connections there. But the main thing is we're asking the public if they ever saw these three together." Fry and Ray had both been missing since at least Jan. 18. Police said they discovered blood in a guest bedroom in their home and bloody towels and hypodermic needles in Fry and Ray's home and garage.
Fry's body was discovered by a local rancher, Fidel Montoya, who told KOB 4 that he made the discovery when he opened a plastic trash can that had been sitting along the road near his ranch.
On her Facebook page, Fry's friends and loved ones left messages mourning her death. "I just now saw that something happened to you," one friend wrote. "I'm so sad. I don't know what happened, but it's awful. You helped me come out. You told me fuck anyone who disagrees, and fuck all of those who can't accept my happiness." Another wrote, "The fun times we had at the casino will forever be in my head. Rest In Peace, sweet girl." A different message called Fry "a brave, strong and inspirational woman. Your spirit lives on and you are missed by many. May you rest in peace."
In addition to Fry, at least five other trans people have been killed in 2018 so far — most recently Phylicia Mitchell, 46, who was fatally shot outside her home in Cleveland in February. According to a 2016 estimate, trans people make up just 0.6% of the U.S. population — but the trans community sees disproportionate rates of fatal violence. And violence against trans people often goes underreported or unacknowledged, advocates say, meaning that the true toll of anti-trans violence is likely greater than reports suggest.