Sam Nunberg embarked on a media blitz that quickly spiraled out of control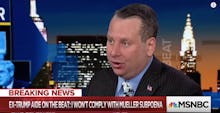 Former Donald Trump campaign aide Sam Nunberg's media blitz quickly spiraled out of control on Monday, turning into a bizarre spectacle that culminated in reporters questioning whether he was in the midst of some kind of mental breakdown and whether it was ethical to put him on air.
The spectacle began on Sunday, when Nunberg leaked to Axios that he'd been subpoenaed by a grand jury convened by special counsel Robert Mueller's team. The investigators had asked Nunberg to hand over all communication he had with President Donald Trump and nine members of Trump's inner circle.
But it was on Monday that Nunberg seemed to go off the rails, making bombshell accusations against the president and former Trump aide Carter Page, as well as telling multiple television and print media outlets that he was going to refuse to comply with the subpoena because he didn't want to spend time sifting through his emails. Such a move could have gotten Nunberg thrown in jail on contempt charges.
By late Monday night, Nunberg had already backtracked on his dare for Mueller to arrest him, telling reporters that he would actually comply with the subpoena.
Viewers across the country saw Nunberg make that decision in real time, as legal experts who appeared alongside him on MSNBC explained the gravity of the situation live on air.
Nunberg spent hours hopping from media outlet to media outlet — an odd strategy, given that one of his arguments for defying the subpoena was that he didn't have the time to search through the emails the grand jury requested. He spoke to MSNBC and CNN multiple times, and gave similar quotes in each interview.
Nunberg also said he didn't want to implicate former Trump aide Roger Stone.
"Roger Stone is like a surrogate father — he's like my father," Nunberg told MSNBC's Ari Melber. "And I'm not going to go in there for them to set up a case against Roger. Roger did not do anything. Roger and I were treated like crap by Donald Trump, OK?"
After he made that argument, Maya Wiley, former counsel to New York Mayor Bill de Blasio, tried to talk Nunberg off a ledge, telling him live on air that he would be doing a disservice to Stone by refusing to testify.
"I'm really quite flabbergasted at the statement that, Sam, you don't believe that there is anything that you would share that would implicate Roger Stone in a crime, and yet you would not actually come forward in a grand jury and then give — repeat the statements you've made already directly to federal prosecutors in front of a grand jury," Wiley said.
"It's rather astounding. I certainly — the way I've seen the subpoena — it is a reasonable subpoena. It does not seem like a huge, random fishing expedition," she added.
The interviews got progressively stranger from there, with CNN's Erin Burnett asking Nunberg whether he had been drinking.
"Talking to you, I have smelled alcohol on your breath," Burnett said to Nunberg live on air. Nunberg denied drinking, but said he had taken anti-depressants.
And his media tour didn't stop with national cable networks.
He even phoned into NY1, the local New York media station, and called White House press secretary Sarah Sanders a "fat slob" — an attack he attempted to walk back to New York's Olivia Nuzzi at 11:30 p.m. Monday night.
By Tuesday morning, media outlets such as Axios questioned whether it was ethical for reporters to have put Nunberg on air.
"Here's what it was: a sad, epic meltdown — a troubled Trump flunky, pecked at and picked apart like roadkill on the Russia interstate, in his last gasps of public fame and shame," Axios' Mike Allen and Jim VandeHei wrote.
"Basically I thought he was having a meltdown," Rep. Peter King (R-N.Y.) told NBC's Kasie Hunt.