Coinbase announces index fund, faces class-action suit alleging bitcoin cash insider trading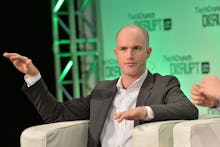 Ripple's price remained below $1 Wednesday, after falling Tuesday following a Coinbase tweet suggesting rumors the exchange would start supporting XRP were "untrue." Speculation that the cryptocurrency might be added to the platform had sent the price above $1 on Monday.
Yet this is not the only example of buzz around new offerings causing a stir for Coinbase, which has also announced it will offer a new cryptocurrency index fund — but increasingly faces pressure from competitors like Robinhood and growing criticism about user experience. The platform in fact told Motherboard it is investigating allegations outlined in a new lawsuit claiming its employees "unfairly" drove up the price of another recently added cryptocurrency — bitcoin cash — before executing regular customers' trades.
Specifically, the class-action lawsuit claims that when Coinbase "suddenly announced" it would open up trading of forked bitcoin cash (or BCH) on Dec. 19 — "a month after tipping off its own employees" about when the exchange would support BCH — it gave those who had inside information a head start to buy and sell "at fair prices."
But "Coinbase customers... were not so lucky," alleges the lawsuit, filed against the company on Thursday. "Within minutes... Coinbase stopped the trading in BCH... They opened BCH for purchase, sale and trading the next day, and again within minutes, closed the books... When Coinbase's customers' trades were finally executed, it was only after the insiders had driven up the price of BCH, and thus the remaining bitcoin customers only received their BCH at artificially inflated prices."
Coinbase has enlisted a law firm to investigate the allegations, though it may be weeks or months before the investigation is concluded, a spokesperson for the exchange told Motherboard.
As Coinbase has seen rapid growth in its millions of users, qualms about the exchange have also increased: As of Tuesday, the Consumer Financial Protection Bureau listed more than 2,200 complaints about Coinbase. Notably, the exchange received more than 1,100 of those complaints so far in 2018 alone — a nearly four-fold increase from the number received from January to August 2017, Bloomberg reported.
The majority of criticism focuses on transaction problems and money not being "available when promised."
A second class-action lawsuit against Coinbase, filed Friday, seeks to recover unclaimed assets the plaintiffs alleges the exchange kept "instead of notifying [them] ... or turning those cryptocurrencies over to the state of California" as required by law.
These latest developments show cryptocurrency buyers still face many challenges as the power of exchanges like Coinbase and other startups in the space grows — at least until regulators catch up: In an increasingly complex ecosystem in which literally anyone can make their own crypto token, the IRS is cracking down on cryptocurrency tax avoiders and the Securities and Exchange Commission is monitoring initial coin offerings so it can better protect prospective investors from fraud.
The SEC has said investors are not yet appropriately protected enough for the commission to permit the creation of cryptocurrency exchange-traded funds in which regular people could buy or sell stakes. The announced Coinbase index fund — which would be comprised of 62% bitcoin, 27% ethereum, 7% bitcoin cash and 4% litecoin — would be available only to those earning more than $200,000 per year or worth more than $1 million.
In short, there's still plenty of room for both winners and losers when "rules are being written as they're broken" — as TechCrunch's Taylor Hatmaker aptly put it following December's controversial bitcoin cash price pop.
Sign up for the Payoff — your weekly crash course on how to live your best financial life.
March 7, 10:00 a.m. Eastern: This story has been updated.