NRA spokesperson Dana Loesch is also the face of SuperBeets, a beet juice supplement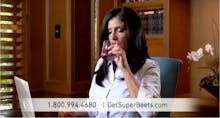 Dana Loesch, the spokesperson for the National Rifle Association — whom you might recognize from CNN's town hall discussion with survivors of the mass shooting at Marjory Stoneman Douglas High School in Parkland, Florida — is also the face of a beet juice supplement called SuperBeets.
Loesch has appeared in advertisements for the product dating back to 2015. Her involvement with SuperBeets was reported on Sunday's episode of John Oliver's Last Week Tonight.
Loesch is featured in an informercial-type ad that airs seemingly exclusively on television. Neither Loesch's face nor endorsement appear on SuperBeet's website, YouTube page or additional social platforms.
In the above clip, after Loesch is filmed jogging on a sidewalk, she says, "There's one superfood I drink every day for healthy circulation and to make me feel great all day long." Loesch goes on to say she takes SuperBeets "as my pre-workout in the morning and as a non-jittery pick-me-up in the afternoon," noting that one teaspoon of the supplement provides the benefit of "three whole beets."
On its website, SuperBeets claims the product is a good source of nitric oxide, which it says can "support your cardiovascular health, blood pressure, circulation, energy, brain health and more." The site continues:
"Nitric oxide is critical in our bodies. Without it, we can't live. Research has shown that the nitric oxide your body produces begins to dramatically decline as you age, especially after the age of 40."
None of these claims have been evaluated by the Food and Drug Administration, according to the website. While there are some proven health benefits of beet juice and nitric oxide, which is naturally produced by the body, "There is no independent clinical test proving that [SuperBeets] really offers health benefits," according to Consumer Health Digest.
Unsurprisingly, there has been a mix of support and condemnation for Loesch's involvement in the product. Some have called for SuperBeets to drop Loesch as a representative, citing brands like Dick's Sporting Goods and Hertz that have parted ways with the NRA.
In October, comedian Kathy Griffin called out Loesch on Twitter for peddling the product.
When Mic first reached out to SuperBeets' customer service line and mentioned Loesch, the representative, who seemed to have trouble hearing the initial request, asked if the call was a complaint about Loesch, leading us to believe that some have been calling to complain.
After being transferred to a SuperBeets corporate representative, the individual told Mic they were unable to speak to members of the media and would pass our information on to someone who could.
In a response to this story, Behrman Communications, the public relations company that works with SuperBeets, sent Mic the following statement: "The opinions and affiliations of any brand partners are their own and not a reflection of our company. We are in the process of evaluating all customer feedback."
In response to the tweets embedded above, Behrman Communications clarified that Loesch "is not a spokesperson. She has been one of many TV hosts for the brand," and that SuperBeets has never run an ad on any of the NRA's media platforms.
Strange as it sounds, there are other instances of prominent media figures shilling supplements. Examples include conservative conspiracy theorist Alex Jones, who has his own line of Infowars Life Dietary supplements, and members of the Kardashian family, who have hawked SugarBearHair gummy vitamins for some time.
March 7, 2018, 5:52 p.m.: This story has been updated.