Chloe Kim, Frida Kahlo and Amelia Earhart all get their own Barbie dolls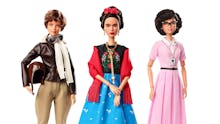 Ahead of International Women's Day, which is March 8, Mattel has announced a whopping 17 new Barbie dolls, all created to honor historical and modern-day role models from around the world.
In a new line of Barbies called simply "Inspiring Women," Mattel has created dolls in the likeness of artist Frida Kahlo, aviator Amelia Earhart and mathematician Katherine Johnson, whose story was celebrated in the 2016 film Hidden Figures.
Johnson, who is 99 years old, reportedly worked with Mattel to ensure her doll was as accurate as possible.
In addition to those three dolls, which will be available for purchase sometime this year, Mattel has added 14 new dolls to its "Sheroes" collection, which has honored women like Ava DuVernay and Misty Copeland, that are international, modern-day role models. These include Wonder Woman director Patty Jenkins, conservationist Bindi Irwin and 17-year-old Olympic snowboarder Chloe Kim, whose doll comes with her own snowboard.
Other sheroes in this collection are a chef from France, a fashion designer from Spain and a ballerina from China.
These dolls, unfortunately, will not be mass produced.
"As a brand that inspires the limitless potential in girls, Barbie will be honoring its largest line up of role models timed to International Women's Day because we know that you can't be what you can't see," Lisa McKnight, the senior vice president and general manager of Barbie, said in a release. "Girls have always been able to play out different roles and careers with Barbie and we are thrilled to shine a light on real life role models to remind them that they can be anything."