Kellyanne Conway violated Hatch Act, special counsel says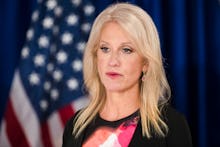 Kellyanne Conway, a top aide to President Donald Trump who quickly became a media fixture during the first year of his presidency, committed two violations of the Hatch Act while discussing the December Alabama special election, the United States Office of Special Counsel announced Tuesday.
In a letter to Trump, special counsel Henry Kerner wrote that Conway "impermissibly mixed official government business with political views about candidates in the Alabama special election."
The Hatch Act prohibits federal employees from using their government positions to attempt to influence the result of an election.
According to Kerner, in interviews on cable news Conway twice bashed Sen. Doug Jones (D-Ala.) — who was then running for Attorney General Jeff Sessions' former Senate seat — in the lead-up to December's special election.
"Ms. Conway was aware of the Hatch Act's prohibitions when she chose during both interviews to repeatedly identify reasons why voters should support one candidate over another in the Alabama special election," Kerner wrote in the letter to Trump, adding that he was referring her to the president for "appropriate disciplinary action."
One of the appearances was on Fox News in November. The other was on CNN in early December. In the Fox and Friends interview, she attacked Jones as "weak on crime, weak on borders" and "strong on raising your taxes."
"He's terrible for property owners," Conway said on air. "And Doug Jones is a doctrinaire liberal, which is why he's not saying anything and why the media are trying to boost him."
In the Dec. 6 interview on CNN's New Day, Conway's statements about Jones were "portrayed as the president's position," according to Kerner, but "she was still providing voters with reasons to vote for Roy Moore and against Doug Jones."
"Indeed, framing her responses to reflect the president's position arguably served as an additional and more persuasive reason for voters to support Roy Moore and not Doug Jones," the report states. "Therefore, her statements advocating for the defeat of Doug Jones and the election of Roy Moore constituted political activity under the Hatch Act."
Walter Schaub, former director of the Office of Government Ethics, filed a complaint about Conway with the Office of the Special Counsel in December after the Fox News interview, in which she jabbed Jones from the White House lawn.
In a statement Tuesday, deputy press secretary Hogan Gidley dismissed Kerner's report — which is unrelated to special counsel Robert Mueller's Russia investigation — saying that Conway was merely reiterating Trump's position on the race.
"Kellyanne Conway did not advocate for or against the election of any particular candidate," Gidley said. "She simply expressed the president's obvious position that he have people in the House and Senate who support his agenda."
Trump publicly backed far-right Republican candidate Moore in the race — despite accusations of child molestation against the former judge. Jones ultimately defeated Moore in the special election, becoming the first Democrat to represent Alabama in the United States Senate in a quarter century.