This video of Michelle Obama dancing with a little girl is everything you need right now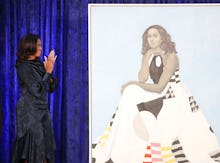 In a new video, Michelle Obama and her new tiny friend, Parker Curry, are melting hearts everywhere as they dance along to Taylor Swift's "Shake It Off." The special meet-up comes days after a photo of 2-year-old Parker staring in awe at Obama's new painting in the National Portrait Gallery went viral on March 1.
The genuine moment was originally ­captured and posted by gallery visitor Ben Hines. In an interview with the Washington Post, Parker's mother Jessica Curry explained she didn't know Hines had taken the photo. Curry initially wanted to take a photo of Parker in front of the portrait, but the little girl would not turn to face her camera after repeated requests.
"All I wanted was just one pic," Curry said to the Post. "She was just so fixated on the portrait and wouldn't turn away from it."
After the photo spread around the internet, Michelle Obama spotted the post and left heart eye emojis underneath.
And as seen by the video above, Obama decided to take the connection a step further by meeting the toddler in person and giving her a memory to last her lifetime.
"Keep on dreaming big for yourself... and maybe one day I'll proudly look up at a portrait of you!" Obama tweeted Tuesday.
Parker's photo is the perfect example of the kind of influence Obama said she wanted her portrait to have on the younger generation.
"I'm also thinking about all of the young people, particularly girls and girls of color, who in years ahead will come to this place and they will look up, and they will see an image of someone who looks like them hanging on the wall of this great American institution," Obama said following the unveiling of the Amy Sherald painting in February.
Based on Parker's reaction, Obama has already made this positive impact.