Report: Trump chief economic adviser Gary Cohn will resign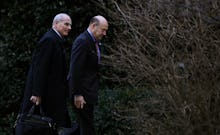 Gary Cohn, President Donald Trump's chief economic adviser, plans to resign from his post, according to a report from the New York Times on Tuesday.
Officials told the Times there was no single factor behind Cohn's decision to step down. However, the move comes on the heels of a high-profile clash between Cohn and Commerce Secretary Wilbur Ross over the decision to impose steep tariffs on steel and aluminum imports.
On Sunday, Ross admitted on ABC News' This Week that administration officials had "lively discussion" on the issue, but said he felt confident Cohn was "not going to walk out."
Despite being a lifelong Democrat, Cohn has been a vanguard for more traditional Republican economic priorities in the Trump administration. He played a central role in crafting the Republican tax law that passed in December and has been an advocate for free-market trade policies.
Trump has turned away from those priorities in recent weeks, making good on his decades-long flirtation with mercantilist and protectionist trade policies that many conservatives consider anathema to their pro-market agenda.
Cohn's resignation is also the latest in a series of high-profile departures that have rocked the the Trump administration. On Thursday, White House communications director Hope Hicks announced her resignation, and NBC News has reported that White House national security adviser H.R. McMaster will soon leave the White House.