"Trade wars aren't so bad": Trump is unmoved by GOP opposition to tariffs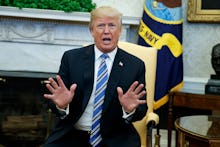 Republican attempts to get President Donald Trump to abandon his plan to impose tariffs on steel and aluminum imports don't appear to be working, as Trump doubled down on the idea Tuesday amid fears of a global trade war.
Standing next to Swedish Prime Minister Stefan Löfven — who said during a joint news conference with Trump that "increased tariffs will hurt us all in the long run" — Trump said trade wars "aren't so bad."
"The trade war hurts them, doesn't hurt us," Trump said, adding that he would "straighten it out" and "do it in a very loving way."
Trump announced Thursday his plans to impose a 25% tariff on imported steel and 10% tariff on imported aluminum. The move quickly caused the stock market to fall.
Congressional Republicans, including House Speaker Paul Ryan (R-Wis.), have tried to dissuade Trump from imposing tariffs, fearing they could cause the economy to falter.
"We are extremely worried about the consequences of a trade war and are urging the White House to not advance with this plan," Ryan spokeswoman AshLee Strong said Monday.
However, the GOP has so far been unsuccessful in getting Trump to change his mind.
Aside from commenting on trade at the Tuesday press conference, Trump also took questions on Russia's interference in the 2016 election and staff turnover in the White House.
Despite recent indictments of Russian nationals, Trump claimed without evidence that "other countries, and maybe other individuals" also meddled in the election — seemingly an attempt to downplay Russia's influence in the election's outcome.
Trump also said he was not afraid of Russia meddling in future elections, as the U.S. will "counteract whatever they do." This was a puzzling statement, given that the State Department has so far spent $0 of a $120 million budget to combat Russian attempts to influence U.S. elections, according to a report Sunday in the New York Times.
Trump also downplayed the chaos surrounding recent staff turnover, including the upcoming departure of White House communications director Hope Hicks.
"There will be people — I'm not going to be specific — but people change, they always change," Trump said.
Trump also tried to downplay reports that it's been difficult to hire people to work in the West Wing because of low morale and a negative environment.
"Believe me, everybody wants to work in the White House. They all want a piece of that Oval Office, they all want a piece of the West Wing. And not only in terms of it looks great on their resume, it's a great place to work," Trump said. "It's got tremendous energy. It's tough. I like conflict, I like having two people with different points of view, and I certainly have that and then I make a decision."