Fyre Festival organizer Billy McFarland reportedly pleads guilty to fraud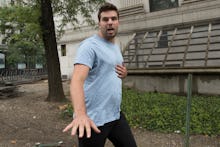 William "Billy" McFarland, one of the organizers behind April 2017's disastrous Fyre Festival, a luxury music event in the Bahamas that ended up descending into chaos, has pleaded guilty to two counts of wire fraud, the Department of Justice announced Tuesday. McFarland, who initially pleaded not guilty to fraud charges back in October, will reportedly serve eight to 10 years in prison under a plea deal, according to Bloomberg.
Fyre Festival was marketed as a "cultural moment" and promised festival-goers lodging in "modern, eco-friendly, geodesic domes." Instead, attendees who shelled out hefty sums to attend the festival arrived on Great Exuma island to find, as the New Yorker reported in May, "a luxury nightmare," complete with soggy tents, meager food offerings and, eventually, a panicked rush to get flights back to the mainland.
It later became clear that Fyre Festival was just as chaotic behind the scenes: Leaked documents obtained by Mic in 2017 showed that Fyre executives, including McFarland, were aware of many issues before the festival started, including potential problems with bathrooms and housing at the festival site. A caterer pulled out of the event just weeks before the festival was scheduled to take place.
An executive who had worked alongside McFarland later said in an interview with Mic that McFarland promised vendors money that the festival just didn't have. In June, McFarland was arrested and charged with wire fraud following an FBI investigation.
In a statement announcing the charges, Acting U.S. Attorney for the Southern District of New York Joon Kim said McFarland "promised a 'life-changing' music festival but in actuality delivered a disaster. McFarland allegedly presented fake documents to induce investors to put over a million dollars into his company and the fiasco called the Fyre Festival. Thanks to the investigative efforts of the FBI, McFarland will now have to answer for his crimes."
McFarland's sentencing hearing is reportedly scheduled for June 21.
March 6, 2018, 7:28 p.m. Eastern: This story has been updated.