Did the Sam Nunberg media circus cross the line?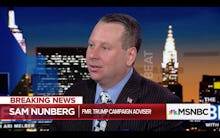 A media circus unfolded Monday after a former aide to Donald Trump told the Washington Post he was refusing to comply with a subpoena ordering him to appear in front of a federal grand jury and hand over documents relating to the ongoing investigation into Russian interference in the 2016 presidential election.
"Let him arrest me," Sam Nunberg first told the Post of his decision not to cooperate with special counsel Robert Mueller and his investigators. Nunberg's defiance — in which he said he would rip up a subpoena on live television — led to a call-in interview with MSNBC reporter Katy Tur, during which Nunberg made a series of jaw-dropping on-the-record claims.
The former aide suggested Trump "may have done something during the election" and knew about about a now-infamous 2016 meeting at Trump Tower in New York, where Donald Trump Jr., Paul Manafort and Jared Kushner met with a Russian lawyer with ties to Russian President Vladimir Putin at Trump Tower in New York.
Nunberg then appeared in on-air interviews with three CNN journalists, called into New York news station NY1 and later returned to MSNBC for The Beat with Ari Melber. He also gave interviews to major news outlets like the New York Times and Politico. In one notable moment, CNN's Erin Burnett told Nunberg she smelled alcohol on his breath and asked if he had been drinking. Nunberg said no.
The media maelstrom ended almost as quickly as it began when Nunberg told the Associated Press on Monday evening that he would, in fact, end up complying with the subpoena. But before the dust settled, journalists and pundits criticized CNN and other outlets for putting Nunberg on air, expressed concern about his mental state and wondered whether the interviews had crossed a line.
"I'm not a professional, but I'm not sure he's alright," Scott Simon, the Saturday host of the NPR program Weekend Edition, tweeted. "Not sure he should be interviewed." Marketplace host Kai Ryssdal shared a similar sentiment, tweeting: "There's a point at which it become irresponsible to keep airing Nunberg. We passed it hours ago."
"This is one of the reasons America hates the media," Jim VandeHei, the media entrepreneur who co-founded Politico and the Washington-based news outlet Axios, tweeted. "Our entire industry lit itself on fire because a troubled Trump hanger-on made an ass out of himself — live."
VandeHei's tweet prompted a wave of reactions and criticism, with some journalists noting it was Axios that first published Nunberg's subpoena under the headline "Mueller's hit list." Washingtonian magazine helpfully listed all of Axios' own reporting on Nunberg's media tour.
"I didn't realize [Axios'] new headquarters was a glass house," MSNBC host Stephanie Ruhle responded.
Other reporters similarly rushed to the defense of journalists who interviewed Nunberg on air.
"Unless they had clear indications that the dude was impaired somehow, a live interview is kosher," Washington Post media reporter Paul Farhi tweeted in defense of Burnett. "It's not like he didn't agree to be interviewed. He did. So bring on the questions."
Jane Hall, a journalism professor at American University's School of Communication, said the media spectacle was inevitable because of Nunberg's willingness to speak frankly about the information he had to share.
"It was, by any definition, newsworthy that a guy who had received a subpoena from Mueller and who had drawn the attention of the Russia investigation was going in print and then on television to say he planned to defy it," Hall said in an interview Tuesday. "Whether people have concerns, whether this was advisable legally, it was definitely newsworthy.
"He put himself out there, he sought the interviews and then he went from one [journalist] to the other," Hall added. "There's just no way that somebody who was a cable news host wouldn't have done a story."
Hall, former media reporter for the Los Angeles Times who frequently contributed to Fox News, said the criticism cropping up around the media's handling of Nunberg seemed more like disapproval of cable news itself.
"[The media] are in some ways fed by each other," Hall said. "Things develop into a frenzy because one media outlet picks up on it and others follow suit."
Jill Olmsted, who also teaches journalism at American University, cautioned not to paint the media with a broad brush when considering the Nunberg interviews. She said journalists' "doggedness" in pursuing the Nunberg story "is something you want from the media."
"The problem is, you don't know as a reporter who Nunberg has talked to already, and you're not sure where you are in the queue," Olmsted, a former television correspondent and producer, said. "Everybody is chasing the same story, so [many] reporters are going to try to talk to [Nunberg.] But they don't know who came before them and they don't know who will come after them."
Taken together, it's easy to assume the resulting hours of television were a result of a massive pile-on, Olmsted added. But it's not that simple. If Nunberg weren't so willing to give so many interviews, we'd have no idea about how often reporters were requesting interviews with him, Olmsted theorized.
"What happened yesterday was the public getting to see the sausage being made," Olmsted said. "And it's not always pretty."
It's worth noting, too, that viewing Nunberg's media appearances one after another caused the perception of a wall-to-wall spectacle, Hall said. "It's not necessarily the way that the average person watches television," she said.
"I'm not at all sure that many people in the public are as interested in the story [as cable]," Hall added. "But I suppose that's a different issue altogether."
The suggestion Nunberg may have been intoxicated was even more troubling.
Burnett faced some criticism for asking Nunberg point-blank whether he had been drinking. Olmsted, who said she was "astonished" at the question, nonetheless defended Burnett, saying the query was "transparent" and that it allowed Nunberg to defend himself against social media allegations that he was under the influence.
Hall said she believed Burnett's question was an expression of concern rather than an attack.
"If somebody comes on and they're impaired, you may want to at some point say, 'Are you sure you want to be doing this?'" Hall said. "But it's not really the obligation of the journalist. And maybe that's something that makes people not like journalists. But it's not really their obligation."
Both Hall and Olmsted agreed journalists shouldn't really conduct on-air interviews knowing the subject is intoxicated. But in live television, Olmsted stressed, sometimes problems are not realized until it's too late.
Olmsted said she thought the interviews conducted by MSNBC host Ari Melber and CNN's Burnett were conducted thoughtfully and "with care." Olmsted was particularly impressed by Melber's interview with Nunberg, during which panelist Maya Wiley, an attorney, urged Nunberg to comply with Mueller's subpoena. On Tuesday, Nunberg told the Post it was Wiley's comments that ultimately helped him change his mind.
On Tuesday, Fox Business reporter Charles Gasparino reported that Nunberg, who reportedly told Gasparino he had been drinking Monday, planned to seek treatment for "substance abuse problems."
Nunberg has not expressed disappointment with the way in which the chips fell. In an interview with the right-wing blog the Daily Caller on Tuesday, Nunberg said he felt the media had treated him fairly.