6 key takeaways from the results of the Texas primary elections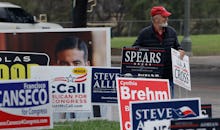 Welcome to Mic's daily read on Donald Trump's America. Want to receive this as a daily email in your inbox? Subscribe here.
Wednesday's dispatch: What happened in Texas
In Texas on Tuesday, progressives notched a key win. The surging Democratic Senate candidate won — albeit without the margin some expected, while dozens of women advanced to runoff elections in May or straight to the November election. Republicans overtook Democrats in total primary votes cast, but Democrats turned out at the highest level since the 2002 midterm primary elections. Republicans also set a record for midterm primary turnout.
Here are key takeaways from Tuesday night's first-in-the-nation primaries:
1. Beto O'Rourke has work to do. In the run-up to Tuesday, Rep. Beto O'Rourke (D-Texas) drew national attention for a campaign that had already sent him to nearly all of Texas' 254 counties. O'Rourke won the Democratic primary on Tuesday night and now heads to November to face Sen. Ted Cruz (R-Texas). However, O'Rourke won with only about 62% of the vote. His lesser-known Democratic opponents won several counties and drew hundreds of thousands of votes. Cruz won 85% of the GOP primary vote. That suggests O'Rourke has made some headway in raising his profile, but still has lots of work ahead of him before November.
2. DCCC interference did not work. Laura Moser, who sought the Democratic nomination in Texas' 7th Congressional District, came in second in Tuesday's primary election, forcing a runoff election. Moser is backed by national progressive groups like Democracy for America, which backed Moser from the start, and Our Revolution, which threw its support behind her after the Democratic Congressional Campaign Committee attacked her for making negative comments about living in Texas. Moser will face Lizzie Pannill Fletcher in a May runoff election.
3. The Democratic vote surged. About 1 million Democrats voted in Texas on Tuesday, the most in a midterm primary election since 2002. That increase in enthusiasm for liberal candidates is what national Democrats hope will fuel their retaking the House in 2018. Still, though Democrats surpassed Republicans in early voting, 1.5 million votes were cast in the GOP primary election. That's the most Republicans to ever vote in a midterm primary election in Texas — up from the previous record of 1.48 million who voted in 2010.
4. Tuesday was a night for women. According to the Associated Press, more than half of the 50 women running for Congress in Texas advanced to a May runoff election or won the nomination outright. That includes three U.S. House races where only women will face off in the Democratic runoff election, including the contest for the highly competitive Texas 7th Congressional District.
5. Texas will elect its first Latina to Congress. Veronica Escobar and Sylvia Garcia won the Democratic nomination for safe Democratic U.S. House seats on Tuesday. That means Texans will send their first ever Latina congresswoman to Washington this year.
6. The Democratic incumbent lost a closely watched district attorney race in San Antonio. Bezar County Texas District Attorney Nicholas LaHood lost Tuesday's Democratic primary election to attorney Joe Gonzales. Gonzales' victory is a win for progressive and immigrant rights groups. LaHood, whose jurisdiction includes San Antonio, is pro death penalty, questioned vaccines and bashed Muslims.
Today's question: Do you support tariffs?
Please email us at trumpsamerica@mic.com with your thoughts.
Wednesday in Trump's America:
Tariffs: The president again argued Tuesday that "trade wars aren't so bad," as he continued to alienate most Republicans on Capitol Hill. House Speaker Paul Ryan (R-Wis.) has pushed Trump to not impose stiff tariffs on steel and aluminum imports. A new Quinnipiac survey found 50% of Americans oppose tariffs while 31% support them. By a 2-to-1 margin, Americans do not agree with Trump that a trade war would be good for the United States.
Curiously, some of the loudest supporters of Trump's tariff proposal are Democratic senators in states like Ohio and Pennsylvania who Republicans hope to unseat in the fall.
Gary Cohn: The president's top economic adviser announced he will soon leave the White House. Cohn, a free trader, was ardently opposed to the tariffs and reportedly could not sway Trump to change his mind.
By the end of Trump's first year, more than a third of White House officials had left. Cohn's deparature will bring the total turnover figure to 43%, the New York Times reported.
Hatch Act: Kellyanne Conway violated a federal law that says government employees cannot engage in political activity by boosting Alabama Senate candidate Roy Moore, federal investigators found. The counselor to the president has been recommended for disciplinary action to Trump.
North Korea: The president said Tuesday it is a good sign North Korea plans to discuss nuclear disarmament. But the U.S. wants to see Kim Jong Un's demands before becoming too hopeful.
2020 polls already: A new survey found Trump would lose to a generic Democrat by 8 percentage points. Nineteen percent of voters are undecided in who they would support, a large swing vote that represents opportunity for both sides.
Stormy Daniels: The porn actress who alleges she had an affair with Trump is suing Trump. Stormy Daniels argues the agreement she signed to not speak of the affair is invalid, because Trump did not sign it.
Scaramucci: Former White House communications director Anthony Scaramucci has reportedly been given the green light by Trump in private to attack White House chief of staff John Kelly in the media.
Health care: Republicans are returning to their old game plan on health care. In exchange for supporting Democratic legislation to shore up Affordable Care Act health insurance markets, Republicans want Democrats to support slashing regulations on and requirements for insurance plans.
California vs. Trump: The U.S. Department of Justice is suing the state of California over its laws allowing "sanctuary cities," locales that do not cooperate with federal law enforcement to detain undocumented immigrants.
Sam Nunberg: On Monday, America witnessed a former Trump campaign aide melt down in real time on national television. Did the media make the right call by continuing to interview him?
NRA and beets: National Rifle Association spokeswoman Dana Loesch, recently known for saying journalists "love mass shootings," is peddling beet juice on NRATV with health claims not verified by the Food and Drug Administration.
Trump highway? Legislators in Utah want to name a highway after the president to thank him for shrinking national monuments in the state.
NY race: Actress Cynthia Nixon, who played Miranda in hit show Sex and the City, is laying the groundwork to challenge New York Gov. Andrew Cuomo in the Democratic primary.
West Virginia teachers strike: West Virginia Gov. Jim Justice signed a bill on Tuesday that will give teachers a 5% pay increase after the longest strike in state history.
Banking bill: Sixteen Democrats ignored warnings from progressives and voted with Senate Republicans to begin debate by a 67-32 vote on a bill that would roll back parts of a financial reform law passed in the wake of the 2008 financial crisis.
Today's MicBite:
With the support of their school board, students at a predominantly white high school in Vermont raised the #BlackLivesMatter flag.
Mic's Aaron Morrison spoke to students at Montpelier High School who received widespread media attention for their action in addition to messages of condemnation — and support — from around the country.
Click or tap below to watch.