Meet Diana Sirokai, the body-positive activist, model and influencer who can't stop going viral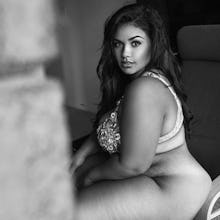 Diana Sirokai gets Instagram. As a body-positive activist, influencer and model with more than 590,000 followers, she's highly attuned to what her followers are looking for: fashion tips, endorsements of brands that understand what a curvier figure needs (including Fashion Nova, natch), encouraging hashtags and a sense that Sirokai has gone through some of the same confidence and self-acceptance issues that they're going through too.
So it's ironic that at one time, Instagram was actually a source of insecurity for Sirokai. "Instagram has always made me feel insecure," Sirokai said in an interview. "All I could see were these amazing bodies that we idolize, and I felt like I couldn't post in bikinis because I don't look like that."
But now here is Sirokai, posting bikini pictures, quips about self-love and plenty other selfies that earn tens of thousands of likes each, with endless comments from adoring fans.
Sirokai's path through that insecurity and becoming a lightning rod for body positivity on Instagram began years ago, when Sirokai saw a fashion industry that wasn't interested in women like her. Rather than accept that, she decided to find a path that could help her institute change within the industry.
"Fashion has always bothered me, as I could never find clothes that fit me even when I was really young," Sirokai said. "I always questioned why. Growing up, in my early teenage years, I decided to study fashion and understand the industry more so when I grow up I can change it."
Born in Hungary, Sirokai moved to London when she was 13 years old. She began modeling in London as a curve model when she was just 16. She dealt with a number of body insecurities throughout this time, which influenced how she first approached her Instagram, which launched in January 2015.
"I started my Instagram about a year and a half ago on a serious note about body positivity," Sirokai said. "My followers have grown like crazy in such a short time."
The turning point came in September 2016, with Sirokai typing out a self-acceptance declaration of sorts.
"Once you accept who you are the power is in your hand to make a change in your world," she wrote. "When you love yourself you will feel blessed. Being confident is unexplainable blessing. Feeling confident is the key for everything! I cant say it enough! I am a plus-size girl but ... I am here to talk to EVERYBODY! Confidence is the key!"
According to Sirokai, after posting that message, she woke up to 10,000 more followers and thousands of private messages. The body-positive community, in all its power, found her.
Two months later, Sirokai was starring in a campaign for the the size-inclusive lingerie brand Curvy Kate, and her follower count kept growing as she continued to post encouraging messages for her fans with hashtags like #ConfidenceWithDiana and #MyFlawsAreMyPower.
"That's when I knew for sure that women do need support with their confidence so I continued ever since," Sirokai said. "I guess they are inspired because I treat them as my friends. I try to reply to most of the messages and help them if I can. I try to have a message behind them, it could be fashion or body positivity, they like both. I'm proud of my cellulite and my stretch marks."
Another turning point for Sirokai came in September 2017, when she recreated a photograph of Kim Kardashian West, laid up in a white one-piece.
The post earned over 36,000 likes. That December, she recreated a Stuart Weitzman ad that showed model Gigi Hadid completely nude, save for a pair of heels.
"I was just wondering how a model my size would look on this," she captioned the picture.
In February, she recreated yet another campaign. This time it was the Kardashian-Jenners Calvin Klein ad, which had them posing in bras and underwear. For these pictures, Sirokai recruited some of her fellow curve models and bloggers to join her.
Those pictures thus far have earned more than 70,000 likes.
"High-fashion brands don't use diversity in their campaigns because they are afraid and don't really know what to do with models like myself," Sirokai said. "I like to recreate ads so that the brands will see that we can look just as good as the models they have already used. If fashion changes their ads and audience, women will get their confidence back."
"I like to recreate ads so that the brands will see that we can look just as good as the models they have already used."
At just 21 years old, Sirokai has aspirations to continue to be as positive an influence on the fashion industry and internet as possible, and to show women who look like her that they are worthy.
"My goal is to keep inspiring, and succeed in my own ways with my look so girls like me will have something to look up to, feel inspired by," she said. "As a model, I would love to be someone who's known for the message she spreads, and not just my look but for who I am as a person."