Authorities: Ex-Russian double agent and daughter poisoned with nerve gas in assassination attempt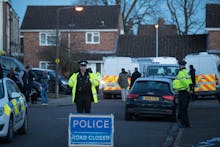 Sergei Skripal, a former Russian intelligence official convicted of spying for Britain against the Kremlin, was poisoned Sunday in what is being treated as an "attempted murder by the administration of a nerve agent," U.K. Metropolitan Police Assistant Commissioner Mark Rowley announced Wednesday.
Rowley declined to confirm the identities of the two individuals who remain hospitalized in serious condition, but media reports have identified them as Skripal, 66, and his 33-year-old daughter, Yulia. The two were found unconscious Sunday on a park bench in a Salisbury, England, shopping mall. The two were "specific targets" of an attempted murder, police said.
A law enforcement official who responded to the attack is also hospitalized and in intensive care, according to Metropolitan Police.
Skripal was sentenced to 13 years in prison in 2006 after being convicted of identifying Russian spies to British intelligence, but was released in 2010 in a spy exchange between Russia and the U.K.
Police on Wednesday did not officially link Russia to the attempted murder, but British Foreign Secretary Boris Johnson warned the Kremlin over the poisoning, threatening to respond to Moscow "appropriately and robustly" if it was found to be behind the attack.
The attempted assassination called to mind Russia's long history of political murders — particularly the 2006 poisoning death of Alexander Litvinenko, a former FSB agent who had worked with British intelligence and criticized Russian President Vladimir Putin.
British authorities concluded that the Kremlin was behind the London assassination.
The attempt on Skripal's life comes amid escalating tensions between Russian and the West. A former senior British foreign office adviser suggested to the Guardian Wednesday that the U.K. was in a "weaker position" than it had been at the time of the 2006 attack, and that "the Kremlin was taking advantage of the U.K.'s lack of allies in the U.S. and E.U."
The U.S. under former President Barack Obama had sought to be tough on Russia after it annexed Crimea in 2014, and for its interference in the 2016 U.S. election.
However, President Donald Trump has adopted a warmer stance toward Moscow, suggesting he believes Putin's denials of any wrongdoing in 2016. He has also cast the investigation into possible collusion between the Kremlin and his campaign as a "witch hunt."
Meanwhile, in interviews for a documentary released Wednesday, Putin praised Trump, but jabbed the U.S. political system, which he said is currently "eating itself up," according to the New York Times.
"I have no disappointment at all," Putin said of Trump. "Moreover, on a personal level he made a very good impression on me."