Betsy DeVos visits Marjory Stoneman Douglas High School, calls arming teachers "a model" for schools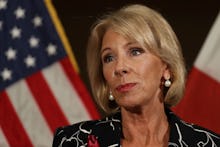 During a planned stopover at Marjory Stoneman Douglas High School in Parkland, Florida, on Wednesday, Education Secretary Betsy DeVos praised the Florida legislature's proposed plan to arm school personnel as "a model" for other school districts to potentially adopt.
Ever since the high school became the site of a deadly mass shooting Feb. 14, when suspected gunman Nikolas Cruz killed 17 students and faculty members with an AR-15 rifle, the nation's attention has been fixed on what, if anything, legislators will do to ensure the tragedy doesn't happen again in other communities.
Florida senators have rejected a proposed amendment to the legislative package — known as the Marjory Stoneman Douglas High School Public Safety Act — that would have banned assault weapons in the state. Senators have also pushed through a proposal to arm certain administrators in schools, a solution championed by the Trump administration.
"I think [training and arming teachers is] a model that can be adopted and should be an option for schools, for states, for communities," DeVos said at a press conference. "But it's not one that needs to be required or mandated for every community."
During what she referred to as a "sobering, inspiring visit" to Marjory Stoneman Douglas, Devos met with students and faculty members who had survived the shooting. Devos said the White House is committed to "furthering and advancing those things that are going to help ensure that students like these and all across the country are going to have the opportunity to learn in a safe environment."
Devos' comments drew a swift response from Polk County Public Schools Superintendent Jacqueline Byrd. In a video message posted to the district's Facebook page, Byrd emphasized her opposition to the plan to arm school staff, advocating instead for increased mental health resources across the district.
"I want to be very clear on where I stand: This is absolutely not the answer," Byrd said. "I will not support or recommend any measure that seeks to arm our teachers or staff."