Democrats regain generic ballot lead as Republican tax reform law goes underwater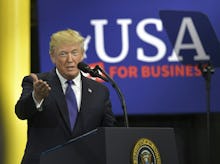 Three new polls out Wednesday show the Republican Party's much-touted tax reform law remains unpopular with voters, while Democrats have opened up a nearly nine-point lead over Republicans on the generic congressional ballot — yet more signs of a potential Democratic wave in the upcoming midterm elections.
The polls show that support for the new tax law has, in fact, grown since Republicans passed the legislation in December. However, support is mired in the high 30% to low 40% range — lackluster numbers for a piece of legislation that GOP leaders hoped would bolster their chances in the midterms.
A Monmouth University poll found that 41% of Americans support the law, while numbers from Gallup and Quinnipiac University found that approval of the bill sits at 39% and 36%, respectively.
According to the Gallup poll, 32% of Americans have seen their paychecks increase thanks to the law, a major talking point for Republicans trying to build support for the legislation. Monmouth found that 37% of Americans believe their taxes will increase under the plan.
The lackluster approval for the tax law could be a reason why GOP super PACs seem to have abandoned messaging around tax reform in campaign ads for the upcoming special election in Pennsylvania's 18th Congressional District. They have instead opted for culture war ads blasting the Democratic nominee for supporting sanctuary cities to try and carry their candidate to victory in a district President Donald Trump won by a 20-point margin.
Ultimately, Democrats have once again opened up a nearly nine-point lead over the GOP on the generic congressional ballot — a poll question that asks respondents whether they'd vote for Democrats or Republicans in congressional races.
That's up from early February, when Democrats' generic ballot lead shrunk to around five points, according to FiveThirtyEight.
The tightening of the generic ballot in February led Republicans breathing a sigh of relief that the midterms might not bring a tsunami to sweep them out of power.
However, the new polling data suggests the wave is still building — and that the tax bill is unlikely to be panacea for the midterm woes Republicans were hoping for.