Following West Virginia's lead, teachers in 3 more states may strike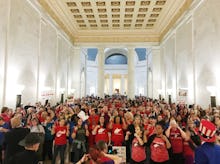 Welcome to Mic's daily read on Donald Trump's America. Want to receive this as a daily email in your inbox? Subscribe here.
Thursday's dispatch: Union uprising
West Virginia teachers went on strike for the longest period in state history. Teachers won a 5% pay raise from West Virginia lawmakers after shutting down schools across the state for nearly two weeks. Now, teachers elsewhere in the United States are set to follow the lead of West Virginians after what amounted to one of the largest and most successful strikes in recent U.S. history.
In Oklahoma, two of the state's largest school districts — in Oklahoma City and Tulsa — expressed solidarity with their teachers unions who are demanding higher pay and investment in schools from state legislators. Oklahoma's largest teachers union told state lawmakers they have until April 1 to raise teacher pay or face a statewide shutdown of schools. Oklahoma teachers are nearly the lowest paid in the country. Budget cuts have forced some schools to function only four days a week.
On Wednesday, teachers in Arizona wore red to school in a spontaneous, grassroots-organized #RedforEd event to raise awareness over low pay. Educators there are also considering a strike to push for higher wages and benefits.
Meanwhile, teachers in eight Kentucky counties are holding "walk-ins" Thursday to show opposition to Senate Bill 1, a state proposal to cut teacher retirement benefits to support the state's ailing pension fund. In these demonstrations, teachers gather in the morning and march to work in solidarity.
West Virginia teachers are not the only ones who have recently used organizing to win concessions at the bargaining table. At the end of February, teachers in Pittsburgh used the threat of a strike to push for better salaries and health care benefits. And in St. Paul, Minnesota, a strike date set by the teachers forced a favorable union contract in February.
These threats of increased organizing come as union power has reached one of its lowest points in the past 100 years. 2017 was the second-lowest year for strikes of 1,000 or more workers since tracking began in 1947. The number of Americans in a union is nearly half of what it was in 1980. And 34% of public sector employees are unionized, compared to just 6% in the private sector, making strikes by teachers unions one of the last impactful ways unions can exert power over decision-makers.
Today's question: What is the role of unions in today's political environment?
Please email us at trumpsamerica@mic.com with your thoughts.
Thursday in Trump's America:
Trump eyes Mueller: The New York Times reported President Donald Trump has asked witnesses about their testimony with special counsel Robert Mueller, again showing the former's willingness to meddle in the investigation.
Restraining order: Trump attorney Michael Cohen secretly sought a restraining order last week against porn actress Stormy Daniels to prevent her from speaking publicly. Daniels alleged earlier this week she can speak publicly about an alleged affair she had with Trump in 2005. She also said she has texts and photos to prove it.
Tariffs: Trump's plan to announce tariffs on steel and aluminum imports have been delayed, NBC News reported, as details of the tariffs are not yet final. While praising the tariffs publicly, Vice President Mike Pence has been pushing the president behind the scenes to scale back their impact. The plan Trump was set to announce Thursday reportedly would have exempted Canada and Mexico from tariffs.
Watching Minnesota: Rep. Keith Ellison (D-Minn.), a leading House progressive and vice chairman of the Democratic National Committee, has taken up the fight for "Medicare for all" in the House, following the resignation of the issue's previous champion, John Conyers, over sexual harassment allegations.
Richard Painter, the top ethics official in the George W. Bush administration, announced Wednesday he is exploring a run for the U.S. Senate seat in Minnesota vacated by former Sen. Al Franken (D-Minn.)
2018: The Democrats have regained a clear lead over Republicans on the generic ballot for 2018 U.S. House elections.
Pennsylvania special election: Republicans are privately bad-mouthing their candidate, state legislator Rick Saccone, in a Pennsylvania special election for the U.S. House that the GOP should have easily won — and is now poised to lose on Tuesday.
Is this what California wants? Sen. Kamala Harris (D-Calif.) "appears more at home working with Senate Republicans than wrangling with them," Politico reported after an extended interview with Harris. That same mentality led California Democrats to not endorse Sen. Dianne Feinstein's (D-Calif.) re-election bid.
Digging into Texas: A top Texas politics expert spoke to Vox about the results of the 2018 primary elections, and what they mean for November. Speed read: There was more of a "pink wave" than a "blue wave."
About that pink wave: "Nearly three-quarters of potential female congressional and gubernatorial candidates this year are Democrats," with women running in record number, Politico reported.
Defunding Planned Parenthood: House Republicans have renewed their push to defund Planned Parenthood, as part of a large federal spending package. That would likely kill the package in the Senate, where Democrats would not back defunding the women's and reproductive health care organization.
Betsy DeVos: In a visit to Marjory Stoneman Douglas High School in Parkland, Florida, Education Secretary Betsy DeVos said arming teachers could be a "model" for schools. Trump championed the idea of arming teachers in the wake of the shooting in Parkland killed 17 people, but all gun reform legislation has ground to a halt in Congress.
Democrats have also charged DeVos with not tracking the performance of minority students as required by a bipartisan federal law. DeVos said she is entrusting the states with that responsibility.
Today's MicBite:
Some Parkland teens can't vote yet, but they're still working to have their say on gun control — by holding the adults in their lives accountable.
Mic's Jack Smith IV is in Parkland, Florida, for the week. Have questions you want answered? Drop them here.