Fundamental Reading: On 'RuPaul's Drag Race All Stars 3' episode 7, the runway read us all for filth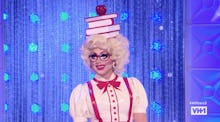 Hello, my glamorous little grapefruits. It's time, once again, to chat about RuPaul's Drag Race All Stars 3.
After that somewhat baffling guest appearance from House Minority Leader Nancy Pelosi, episode seven spent a fair amount of time on the acting challenge, a train wreck of a spoof titled "My Best Squirrelfriend's Dragsmaids Wedding Trip." As a result, the runway challenge, "Red for Filth," flashed by in the blink of an eye.
All Stars 3 has struggled to allocate enough time to each of its segments, and the runway seems to be the one that gets sidelined most often. If you ask me, that's a tragedy, especially since this episode's runway is one of the strongest of the season thus far. Therefore, I felt it necessary to give these looks the attention they so deserve, especially as a respite from the recent drama in the RuPaul cinematic dragiverse.
I've ranked each look from worst to best. If you disagree, you're wrong.
5. Kennedy Davenport
Kennedy's look was an absolute stunner, but unfortunately this week she was outdone by queens who took more risks.
This gown was gorgeous, likely very expensive and red-carpet ready. The small shoulder pads and collar — with its triangular-shaped, dangly bits — helped elevate it to something a bit stranger and fantastical. But it still wasn't quite jaw-dropping enough to separate her from the pack.
4. Morgan McMichaels
As controversial as Morgan has been on the show thus far, I'm thrilled she used her second swing at the crown to deliver a completely different kind of look. I'm not really sure how to describe this outfit, though: Lucille Ball meets horny Scottish milk maid?
Whatever you'd call it, it was notably more fun and whimsical than the punk-rock-style looks she typically wears. The clashing of the masculine plaid with the absurdly plunged neckline was hysterical, but I can't help but feel like her shoe choice was a little too simple.
Overall, this look is great, but it's not imaginative enough to land her higher on this list.
3. Shangela
Whether you find Shangela compelling or exhausting — oh, hey, did you know she watches Game of Thrones? — you can't deny that this queen knows what makes for good TV. She's not the most glamorous of the bunch, but with nearly every one of her looks, Shangela has managed to incorporate some kind of stunt — something designed precisely to elicit screams at gay bars across the country.
The Red for Filth runway was no exception. As Shangela walked down the center stage, the frond-like skirt of her dress inflated, making her look like some kind of cosmic sea urchin that escaped from the set of Annihilation. Luckily, Shangela knows to keep things tidy and clean up close, too: Her forehead was adorned with a simple, clean line of red jewels, helping the rest of her red jewelry tie the whole look together.
Though, I will say, I'm getting mighty tired of this roots-for-days, exaggerated dark-to-blonde hairstyle on Shangie. The heavy, overdramatic braid is a nice change, but c'mon, gimme some more color.
2. Trixie Mattel
Oh, Trixie. You've really come around since the beginning of the season, and I'm so proud to see it. The judges didn't have too much to say about this particular look, but I still can't get over it. Yes, the outfit itself was little more than a simple body suit — an immaculately tailored one, mind you — but the accessorizing was really what kicks this thing to the next level.
The cartoonish stack of books on her head, punctuated with a perfectly balanced apple, made Trixie look like a strawberry shortcake come to life. Also, by including the books, Trixie was the only queen who successfully integrated the double entendre of red/read into her outfit. We love a queen who does her homework.
1. BeBe Zahara Benet
I tend to pigeonhole BeBe has an icy, regal, proud queen — you know, the kind of person who would ask another queen to help her sew a dress, deny receiving any help from her on-stage and then eliminate her. Can you imagine?
Anyway, this look showed that BeBe can do so much more; that she can go full on Power Rangers super villain with the snap of her glitter-encrusted fingers. But the peplum detailing around her waist and the long, skinny train helped imbue this look with a bit of executive realness, too. It was a bit like if Rita Repulsa raided Miranda Priestly's closet.
Honestly, if any queen came on-stage with an all-over face covering (Nina Bo'Nina's Gaga look also comes to mind) there's very little chance I won't be bowled over. I can't help it; I love the drama.
But unlike other bemasked queens in seasons past, BeBe paid just as much attention to her face beneath the covering, too. Once BeBe lined up for critiques, she peeled off the front of her hood, revealing eyelids and cheekbones coated in reflective jewels. As much as BeBe has a tendency to rub me the wrong way, this look was a toot.
Lip sync looks: Shangela versus Trixie
All right, with the runway covered, let's chat about that utterly bananas lip sync. I can't help but feel a little bad for Trixie. She confidently nailed those lyrics in "Freaky Money." It was a much more serious, sexy Trixie than we're used to seeing. She wore an utterly killer outfit, to boot: lime-green cotton candy wig with a sparkly pink catsuit? Lord. Straight into the veins, please.
But Miss Shangie, ever the ham, went full-on Nutty Professor, and there's just no beating that. Ru loves a stunt, and Shangela knew it. Once she shed her bedsheet-like dress, Shangela revealed an absurdly bulbous fatsuit, with a teeny-tiny red bikini stretched around it. The operative word there is "stretched" — by the end of the song, Shangela's bottoms were saggy enough for Trixie to crawl in there and use it as a hammock. Even still, Ru thought it was a ballsy enough move to award Shangela yet another win.
Upon winning, Shangela sent Morgan home. Next week is the All Stars 3 finale, meaning Trixie, Shangela, BeBe and Kennedy all have a shot at winning the crown. See you next week.