Is Stormy Daniels an existential threat to Trump's presidency?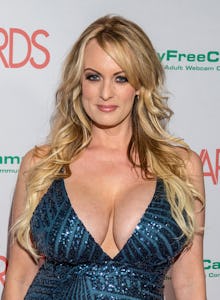 The White House on Wednesday ensured that the scandal around President Donald Trump's alleged affair over a decade ago with porn actress Stormy Daniels isn't going away anytime soon.
Daniels, whose legal name is Stephanie Clifford, filed a lawsuit against Trump on Tuesday, saying that the agreement she signed that came with a $130,000 payment is invalid, because Trump himself never signed the agreement. Instead, it was Trump's personal lawyer Michael Cohen who signed the document.
The lawsuit claims that, "Mr. Trump purposely did not sign the agreement so he could later, if need be, publicly disavow any knowledge of the Hush Agreement and Ms. Clifford."
The suit could present problems for Trump on multiple levels. First, the lawsuit claims that Trump "aggressively sought to silence Ms. Clifford as part of an effort to avoid her telling the truth, thus helping to ensure he won the presidential election."
Watchdog group Common Cause says that if this is true, the agreement breaks campaign finance laws, because Trump would have had to report the payment in his financial disclosures.
"Under federal campaign finance law, any 'expenditures' by a candidate or agent of a candidate or in coordination with a candidate must be reported by the candidate's committee to the [Federal Election Commission]," Common Cause said in a statement.
"There is strong — and growing — reason to believe that Mr. Trump and his campaign violated federal campaign finance disclosure laws by hiding this election-influencing hush money payment," Common Cause added. "Further, depending on the source of the $130,000 paid to Clifford, Mr. Trump and his campaign may have received an illegal campaign contribution."
Clifford's lawsuit also suggests she might have "still images and/or text messages which were authored by or relate to" Trump. If those images and texts exist, it could create a PR nightmare for Trump that rivals the infamous Access Hollywood tape, which nearly sank his presidential campaign.
The White House escalated the story even further on Wednesday, when White House press secretary Sarah Sanders revealed that Cohen had taken the case to an arbitrator.
"Look, the president has addressed these directly, and made very well clear that none of these allegations are true," Sanders said at Wednesday's daily press briefing. "This case has already been won in arbitration. And anything beyond that, I would refer you to the president's outside counsel."
News outlets later reported that Cohen secretly obtained a temporary restraining order from an arbitrator, which bars Clifford from speaking about her alleged affair with Trump.
Cliffords' lawyer, Michael Avenatti, denies Sanders' claim that Trump "won in arbitration."
"Yeah, and he also won the popular vote," Avenatti told reporters, a sarcastic reference to Trump losing the popular vote in the presidential election by nearly 3 million votes.
"President Trump hasn't won anything relating to Ms. Clifford," Avenatti added.
According to CNN, Trump is angry with Sanders for how she dealt with questions surrounding the lawsuit.
"Sarah gave the Stormy Daniels storyline steroids yesterday," an unnamed source told CNN.