The Salvation Army has opened its first nonprofit grocery store in America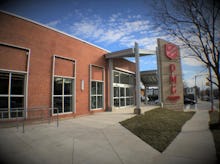 Fresh produce on a budget just got a lot more affordable in Baltimore.
On Wednesday, the Salvation Army opened its very first nonprofit grocery store in northeast Baltimore. Called DMG Foods — a reference to the Salvation Army's motto of "doing the most good," the 7,000-square-foot store will provide affordable groceries and prepared foods in an effort to make healthy eating more accessible for residents. The store has a butcher, a deli counter and prepared foods.
According to the DMG Foods site, the store is the first in the country to combine social service with a traditional grocery store. Anyone can shop at the store, but the Salvation Army hopes that residents who don't have enough money to shop at other stores — or who can't hop on a bus to shop elsewhere in town — will seek out DMG Foods. Salvation Army representatives noted that the prices will be 5% lower than other Baltimore grocers. Since the store has a nonprofit model, it can pass additional savings to shoppers, Maj. Gene Hogg, the Salvation Army's area commander, said in an email.
"Our everyday low prices on staple products include: $2.99/gallon for name brand milk, $0.99/loaf for name brand white bread and $1.53/dozen for Best Yet Grade A medium eggs," Hogg said. Best Yet is the Salvation Army's house brand.
According to Hogg, the idea for a Salvation Army-run store was inspired by the Baltimore protests in April 2015, when people took to the streets after 25-year-old Freddie Gray died in custody of the Baltimore Police Department.
"Many convenience stores were looted or closed [during the protests,]" Hogg said, explaining that the Salvation Army opted to distribute food baskets throughout the city. "This outreach made us question if people within the community had access to sufficient resources and how we could further support them. ... We chose to open a grocery store, because we felt it was important that city residents had a broader food selection and more buying power." It took two years for the store to go from concept to reality, he said.
The Salvation Army's move into the world of groceries comes at a time when 2.1 million American households are low-income and located in areas with low access to healthy foods, also known as food deserts. In these areas, residents have more access to unhealthy foods like fast food and nutrient-void packaged products, and often have a greater likelihood of developing obesity. Some food activists prefer to call these areas "food swamps" instead of "deserts" because residents are flooded with advertising and stores that sell unhealthy fare.
The DMG Foods store is located at 400 East 29th Street in Baltimore. In the images below, the red dot represents the new store and the yellow on the map represents areas where residents are low-income, often don't have a car and live over a half mile from a grocery store.
Shoppers can join the "Red Shield Program," a loyalty program with which they can earn discounts. Even more, any customers who qualify for government food aid will be able to get complimentary items each month. Children younger than 12 years old who are shopping with their parents will also receive complimentary fruit.