Parkland victim's dad compares NRA to "terrorist organization" during U.S. Senate meeting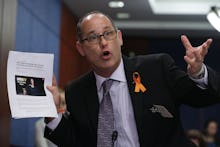 On Wednesday, during a Capitol Hill hearing featuring victims of gun violence, the father of one of the teens murdered in Parkland, Florida, called on lawmakers to acknowledge the threatening nature of the NRA's recent video campaign.
Fred Guttenberg, whose 14-year-old daughter, Jaime, was murdered by a mass shooter at Marjory Stoneman Douglas High School Feb. 14, appealed to Democratic senators to acknowledge the threatening nature of the video's content. While speaking, he was holding what appeared to be a printout of an article summarizing the most recent video released by NRA spokesperson Dana Loesch.
"If this was put out by a terrorist organization, we would be raising the terror threat level in this country," Guttenberg said. "Why are we letting this lobby have anything to do with D.C.? I don't understand it."
The video in question, which the NRA released on March 4, features Loesch calling out "every lying member of the media ... every Hollywood phony [and the] role model athletes who use their free speech to alter and undermine what our flag represents.
"We've had enough of the lies, the sanctimony, the arrogance, the hatred, the pettiness, the fake news," Loesch says in the video, flipping an hourglass over. "Your time is running out. The clock starts now."
Guttenberg and other Parkland parents and survivors were invited to attend the Wednesday meeting by Senate Democrats, who have made their intention to stand with the victims of gun violence clear amid the feverish debate on weapon ownership in America.
"I understand you had a lot of colleagues who didn't want to be here today," Guttenberg said, referring to Senate Republicans, who did not attend the meeting. "We should take the pressure from outside and bring it in."
Later on Wednesday, the Florida House of Representatives voted 67-50 to pass the school safety bill penned in response to the Parkland massacre. Among the legislation's provisions are a measure that would see some teachers and school administrators armed, and a provision to raise the legal age required to buy a gun from 18 to 21.