What Melania Trump wore her 59th week as first lady — while meeting with Netanyahu and more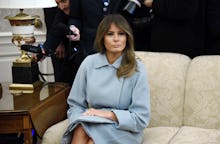 As the White House continues to deal with the Stormy Daniels controversy, Melania Trump has been busy keeping up appearances this week
She met with the Israeli prime minister and his wife at the White House, and even attended the notorious Gridiron dinner in Washington right alongside her husband, who made a joke about her leaving him at the event. We're sure she loved that.
This is what she wore.
Saturday, March 3: All black for returning to the White House
After yet another stay at Mar-a-Lago, Trump arrived back in D.C. with her husband on Saturday, wearing a large black coat, slacks and bright red Louboutins, as per usual.
Later that night she attended the Gridiron dinner, which didn't allow any press photography, so we don't know exactly what Trump looked like. We do, however, know that she wore Michael Kors.
Monday, March 5: Light blue for a meeting with Israel's prime minister
Squint and you'd think this was the same outfit she wore on Inauguration Day. On Monday, for a meeting with the Israeli prime minister and his wife Sara Netanyahu, Trump wore a light blue coat by Max Mara with matching blue, metallic Louboutin heels.
Netanyahu wore a brighter, nearly Tiffany blue dress.
You can see previous recaps of what Melania Trump wore here.