Let's get one thing straight: Saoirse Ronan is a style icon and should be treated as such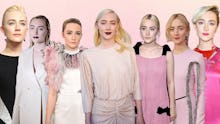 You can rely on Lupita Nyong'o to always look elegant on a red carpet. You can rely on Cate Blanchett to always look ravishing on a red carpet. You can rely on Janelle Monáe to always look daring on a red carpet.
And after this awards season, you can rely on Saoirse Ronan to always turn out looks that are equal parts quirky and sweet on a red carpet.
Hers is a style that you can never predict. She doesn't have one silhouette she sticks to, or a palette. She's similar to Chloë Sevigny, Tessa Thompson or even her Lady Bird director Greta Gerwig in that she tends to go for prints and sparkle and dresses that are, in a word, interesting.
Basically, she'd never just show up in a plain black dress.
Her status as a style icon was crystallized for us at the Oscars, where she arrived in a sweet little pink Calvin Klein dress that was like a blend of Renée Zellweger at the 2004 Oscars and Gwyneth Paltrow at the 1999 Oscars.
It also had a detachable train, which was cool.
But this was Ronan at her most refined. Usually on red carpets, she wears dresses with a bit of an edge, like this Prada she wore to the Independent Spirit Awards.
With glitter ornaments at the top and a chartreuse print, it fit the night's vibe just right.
At the BAFTAs, she wore a black, feathered, partly see-through Chanel that she remarkably pulled off.
A favorite look of ours: this orange Cushnie et Ochs dress she wore to the Oscars luncheon this year.
With the help of stylist Elizabeth Saltzman, whose other clients include Gwyneth Paltrow, Ronan has been able to experiment with color and silhouettes that only make us want to know more about her.
Like, who wouldn't want to know more about this woman in this orange and hot pink bedazzled Gucci dress?
Same goes for this sparkly pink Louis Vuitton, which Ronan wore to the SAG Awards.
Sparkle has actually been one of Ronan's style mainstays. She rocked a futuristic black dress with serious shoulder pads and a glittery accent by Versace at the Globes and an entire bedazzled nude Michael Kors dress at the Critics Choice Awards.
Sparkle is an easy thing to get very wrong on a red carpet, but on Ronan it reads as subtle and even sophisticated.
Now, of course, since Ronan has been acting since she was a child, not every red carpet appearance has been outstanding, which you can see below.
Her 2011 Met Gala look wasn't great, we admit.
But over the past five years, Ronan has obviously found her niche in dresses with an edge. Just look at her at the 2016 Met Gala, in a feathery Christopher Kane.
The best part? It could be shortened into a cocktail dress.
Even back in 2014, Ronan was rocking dresses covered in butterflies or studs.
And in 2015, she was all about print and glitz.
Always one to watch, it is way past time to start appreciating Ronan for the fearless dresser she is.