This airfare site found the best time to buy cheap domestic flights in 2018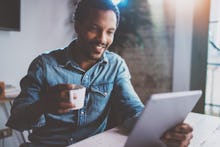 Buying plane tickets is all about timing. Buy months too early and you won't get the best price. Wait until the last minute and you'll have to pay an exorbitant amount if you want to fly.
There are plenty of urban myths about how to book airfare to get the best possible deal: Many people believe that booking on Tuesdays or using an incognito browser is a way to outsmart the airlines. But as Scott Keyes, founder of the airfare tracker site Scott's Cheap Flights, previously told Mic, neither of these strategies will net you extra savings because today's airfares change by the minute — sometimes, by the second.
The good news: Bargain hunters can still find great prices if they book a certain number of days in advance. By analyzing over 917 million airfares during 2017, CheapAir.com determined when travelers can get the best price on airfare. They also found that airfare prices changed an average of 62 times during the 11 months they are on sale.
How many days in advance should I book a domestic flight?
If you book zero to six days before your flight
You've procrastinated on making plans, so prepare to pay the price. CheapAir.com predicts you'll pay an average of $208 more than travelers who booked the lowest airfare.
If you book 21 to 121 days in advance
CheapAir.com calls this the "prime booking window:" Expect to get the lowest price, since fares tend to be within 5% of the lowest possible price. This window is big — it ranges from from approximately one month to four months in advance.
If you book 122 to 168 days in advance
You may get a good selection on flights (and peace of mind that your travel plans are locked down), but you'll pay extra for it. Customers can expect to pay $20 more than they would have if they booked during the prime booking window.
If you book 169 to 319 days in advance
Booking a flight more than five to six months ahead of time isn't the smartest plan, either. CheapAir.com noted that you can expect to pay $50 more on average, compared to travelers buying at other times.